GeekVape is a household name in the vaping world. Especially in these recent times, the brand name has been buzzing in the lips of both veteran vapers and newcomers. What else could bring GeekVape such respect and market acceptance if not the Aegis series? I don't know if you have an answer.
Without a doubt, the Aegis range is legendary on its rights, being the enormous amount of high-performing vape devices under a family name. I bet you would have probably used any of the GeekVape Aegis series or, better still, have a friend that vape with any of them.
However, as much as the GeekVape Aegis series are famous for their quirks and excellent performance, it is vital to highlight one of these vaping devices in a particular mention.
Say hello to GeekVape L200 Aegis Legend 2 200W Kit. This great vape device is super durable and flexible with a ton of incredible features and options. You will agree with me there must be specific reasons we are discussing this particular model. Would you mind if we take a detailed look? Let's get started.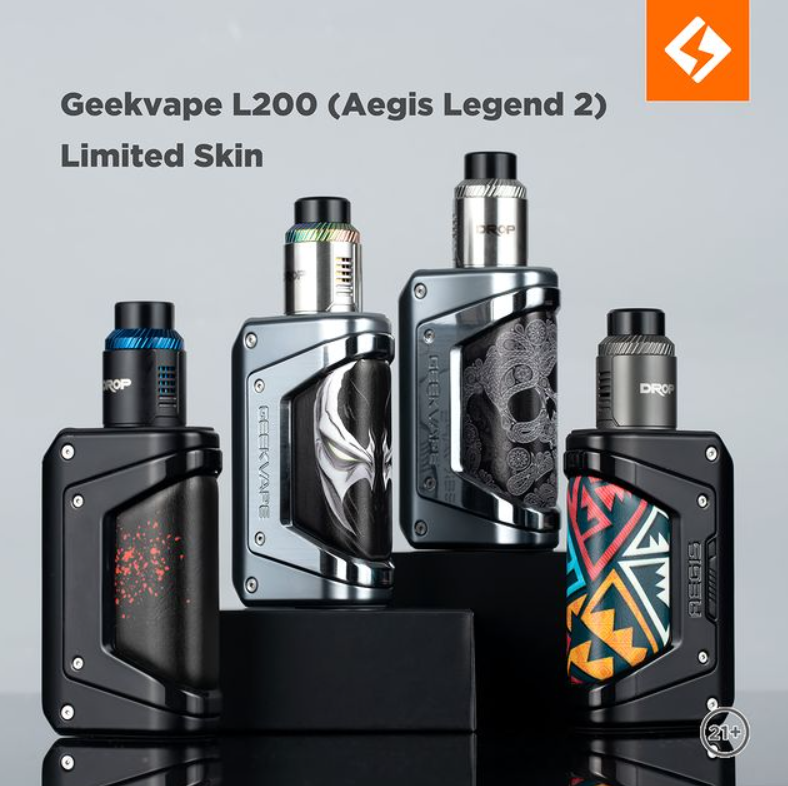 GeekVape L200 Aegis Legend 2 200W Kit boasts a bunch of incredible improvements. They include a new display, charging port location, dual 18650 battery, lock switch, and most importantly, IP68 rating. That's not all; the vape device is 30% lighter and about 20% smaller, which makes it friendlier for your pocket and palms.
What's more? GeekVape L200 Aegis Legend 2 200W Kit comes with a newly improved sub-ohm tank to make your vaping experience more enjoyable. Meanwhile, the sub-ohm tank in this vape device is GeekVape's latest version of the Z tank. It is an adjustable airflow tank that can contain up to 5.5ml e-liquid.
The New Attractive Design
The styling of the GeekVape L200 Aegis Legend 2 200W Kit is highly sensational. It stands out amongst its contemporaries flawlessly. You can confirm one of the reasons it is IP68 rated. Thanks to the perfect blend of durable plastic and stainless steel materials, its lightweight allows you to vape conveniently for longer hours.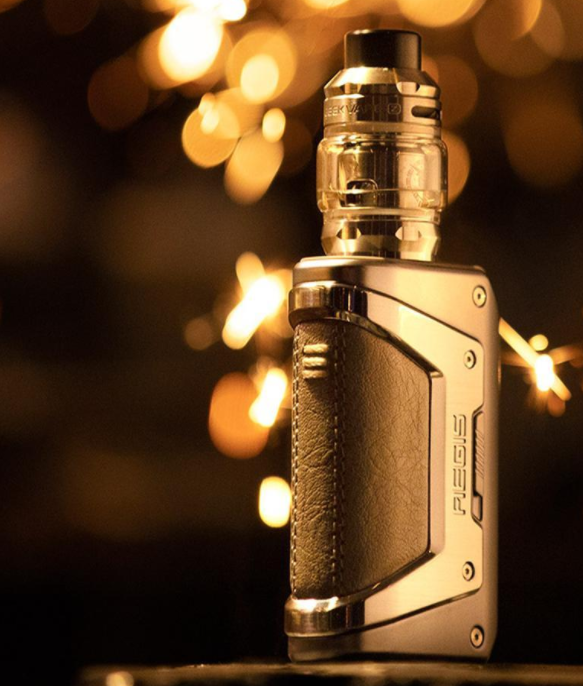 Battery and Charging
GeekVape L200 Aegis Legend 2 200W Kit features a USB Type –C charge port, which you can use for both charging and software updates. Besides, it also comes with a dual battery that allows you to vape for longer hours with a sustained power supply.
Usage and Features
Amazingly, you have plenty of mode options to choose from on the GeekVape L200 Aegis Legend 2 200W Kit. They include Power, TC – Ni (Nickel), TC – Ti (Titanium), TC – SS (Stainless Steel), TC – TCR (Temperature Coefficient), VPC (Variable Power Curve), and Bypass modes.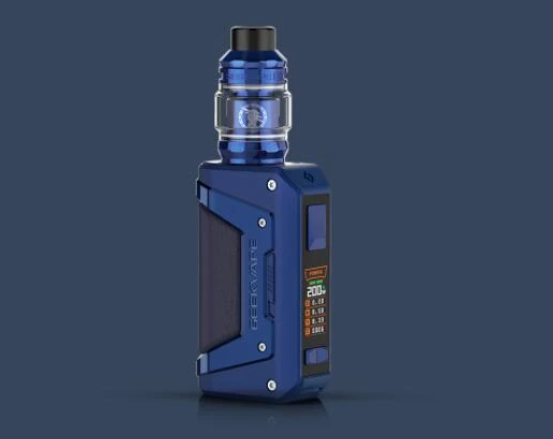 As if that is not enough, this vape device also allows you to access multiple configuration options such as brighten display, darken display, change the color of display, and alter temperature-related settings such as resistance, wattage setting, and resetting the puff counter.
In addition, you can make the following commands:
On/Off – Click the fire button five times
Change Mode – Click the fire button three times and use the up and down buttons to scroll.
Once in Output adjustment mode, you can scroll down to adjust coil resistance and reset puff count by pressing the fire button
Brightness Up: Long press the Fire & + button
Brightness Down: Long press the Fie & – button
Change screen color: When in Output adjustment mode (3 clicks), hold both option buttons (up/down) to change the screen's color.
Pros:
Tough IP68 rating
Updated display and chip
Lightweight 30% lighter 15% smaller
Leakproof tank
Up to 200W of power
Dual battery for longer vaping
Excellent flavor and vape
Stylish and feels great in the hand
New manual locking switch on the side
Better positioning of the charge port
Cons:
The battery door is difficult to close
On a Final Note
Overall, the GeekVape L200 Aegis Legend 2 200W Kit is quite an improvement in the vaping world and an impressive progression of the Aegis series. I would recommend it for any vaper who cares to experience another level of vaping. Head for the vape shop to give it a shot!