McCarty still bitter about Lemieux 25 years after 'The Fight'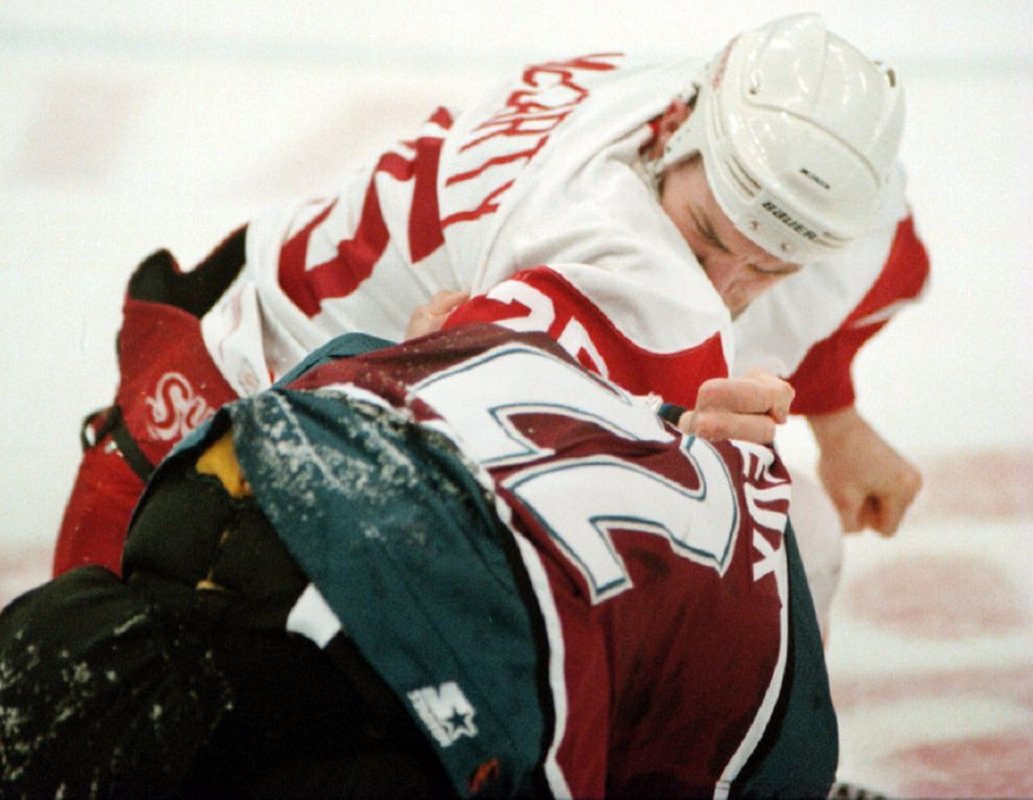 'Time heals all wounds'. For many people and situations that phrase is true, but where former Detroit Red Wings enforcer Darren McCarty is concerned? Not so much.
March 26, 2022, was the 25th anniversary of the infamous brawl between the Red Wings and Colorado Avalanche at the Joe Louis Arena.
A crowd of nearly 20,000 were on hand to witness what they thought would be just another regular season match-up between the two teams. How wrong they were.
The Red Wings had been harbouring a grudge for more than 300 days and took the opportunity to exact revenge in brutal fashion.
In Game 6 of the 1996 Western Conference Finals, Avalanche winger Claude Lemieux checked Red Wings' forward Kris Draper from behind.
Draper suffered serious injuries after Lemieux drove his face into the boards. The Avalanche went on to win the Stanley Cup that year. The Red Wings did not forget.
An incident involving Peter Forsberg triggered things off, with Red Wings' star Igor Larionov taking exception to a sneaky shot to the head by the Swede.
Mayhem ensued, with McCarty quickly realising this was his opportunity to gain retribution for Lemieux's dirty hit ten months earlier.
McCarty pummelled Lemieux into submission, while several other fights broke out across the ice including one involving two netminders.
Red Wings' goalie Mike Vernon completely destroyed Patrick Roy, leaving the Avalanche goalie needing serious medical attention after they went toe-to-toe.
In a recent interview with Betway, McCarty showed he still harbours some resentment towards the Avalanche players for their antics back then.
"Listen, I might not be the biggest Patrick Roy fan, but I respect the player," he said.
"The same way that I don't respect the player that Claude Lemieux is, but I respect the person Claude Lemieux is."
McCarty ultimately had the last laugh that evening, firing home the winning goal in overtime to secure a crucial victory for the Red Wings.
Beating the defending champions proved to be a pivotal moment, and many people believe it was the catalyst for their Stanley Cup success that season.
They beat the Avs in six games in the Western Conference Finals, securing a thoroughly deserved 4-2 series win to knock the champions off their perch.
The Red Wings then demolished the Philadelphia Flyers 4-0 to take the NHL title. McCarty scored the winning goal in Game 4 – helping the club win the Stanley Cup for the first time since 1955.
They won it again the following season, completing a clean sweep against the Washington Capitals to cement their status as one of the greatest sports teams of all time.
McCarty won a further two titles with the Red Wings in 2002 and 2008, and is now rightly revered by the fans as one of the finest enforcers of his generation.
While many tough guys rely solely on their fists to make an impact, McCarty also had a handy knack of weighing in with plenty of goals and assists.
Despite ending his career with four Stanley Cups, McCarty's ongoing bitterness towards Lemieux is still evident today, with the former Red Wings star taking great delight in a recent incident involving his old adversary's son.
Brendan Lemieux has picked up many of his father's annoying traits, and was his usual chippy self when his Los Angeles Kings team faced Edmonton Oilers last month.
Evander Kane, a man not known for his calm demeanour, got into an altercation with Lemieux towards the end of the second period.
Lemieux clearly said something to annoy Kane, and the Oilers forward responded with one of the sweetest punches you will ever see. McCarty loved what he saw.
"I don't have much respect for Evander Kane, but that cold cock, that was right down the pipe, that was a well-executed left, and those are the ones that send messages," he added.
"Those ones not only hurt, but that's a message sender. To Brendan, I mean, what do you want? He's a Lemieux, he plays like a Lemieux, you gotta treat him like a Lemieux.
"I don't know the kid off the ice, but I know that on the ice there's a bunch – there's probably about eight guys around the league that I'd have an issue with if I played.
"But I don't play anymore so I have no issue, and plus they changed the rules."
---
The Insidexpress is now on Telegram and Google News. Join us on Telegram and Google News, and stay updated.