Realistic wigs are pretty popular these days as more and more women are looking for ways to change their appearance without taking drastic measures. And what better way to do it than with a wig that looks so natural no one will be able to tell the difference?
If you're considering getting a realistic wig, consider monofilament wig fibers. These natural-looking caps will give you the most realistic look. Another great option is lace front wigs. These wigs have a natural hairline that looks very realistic.
When choosing a realistic wig, it's essential to pick one that matches your skin tone. This is why we will discuss everything from what a realistic wig is, the different skin tones, and the best wig colors for each to how to take care of your realistic wig.
What Is a Realistic Wig?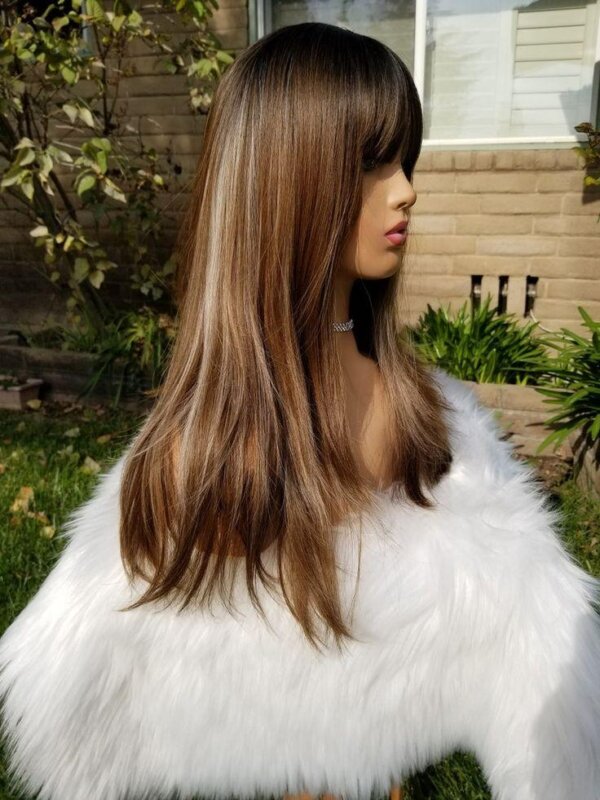 A realistic wig is a wig that looks and feels like natural hair. It is made with high-quality materials and construction methods that make it durable and long-lasting. Realistic wigs are usually made with human hair, but some synthetic options are available.
The main difference between a realistic wig and a regular wig is how the hair is attached to the wig cap. Realistic wigs have a more natural-looking hairline, and the hair is often hand-tied to the cap. This gives the wig a more natural look and feel.
Wigs come in different densities, the amount of hair per square inch. The denser the wig, the more natural it will look. Realistic wigs are usually on the higher end of the density spectrum to look as realistic as possible.
Types of Realistic Wigs
There are two main types of realistic wigs: lace front wigs and monofilament wigs.
Lace front wigs
Lace front wigs have a natural hairline that looks very realistic. The hair is hand-tied to a sheer lace material attached to the front of the wig cap. This gives the illusion that the hair is growing out of your head.
Monofilament wigs
Monofilament wigs are made with a monofilament cap. This type of wig has individual hairs hand-tied to a sheer mesh material. The mesh material covers the entire wig cap and illuminates the hair growing out of your head.
Human Wigs Vs. Synthetic Wigs
When it comes to realistic wigs, you can choose between human hair wigs and synthetic wigs.
Human hair wigs are made with 100% natural human hair. These wigs can be styled just like your own hair and will look and feel very natural. The only downside to human hair wigs is that they can be more expensive than synthetic wigs.
Synthetic wigs are made with synthetic fibers designed to look and feel like natural human hair. Synthetic wigs are usually less pricey when compared to human hair and are easier to care for. The disadvantage of synthetic wigs is that they cannot be styled as much as human hair wigs.
What Are the Different Skin Tones?
There are three different skin tones: cool, warm, and neutral.
Neutral skin tones are between cool and warm, with no dominant undertone.
Warm skin tones usually tend to have a yellow or golden undertone.
Cool skin tones have a pink or blue undertone.
The ideal way to determine your skin tone is to look at the veins in your wrist. If they show up more green, you have a warm skin tone. If they appear blue, you have a cool skin tone. You have a neutral skin tone if they appear to be a mix of both.
What Are the Best Wig Colors for Each Skin Tone?
Now that you know your skin tone, it's time to pick the right wig color!
If you have a cool skin tone, the best wig colors are ash blonde, platinum blonde, and strawberry blonde. The best wig colors are golden blonde, honey blonde, and copper if you have a warm skin tone. For those with a neutral skin tone, the best wig colors for you are naturally black, dark brown, and medium brown.
How to Take Care of Your Realistic Wig
Now that you have your perfect wig, it's essential to take care of it to last as long as possible. Here are some tips:
Brush your wig regularly with a soft-bristled brush to avoid tangles.
Use a wig stand to store your wig when you're not wearing it.
Avoid using styling tools on your wig, which can damage the hair.
Try using products that are for wigs.
Expert Tips on Choosing The Most Realistic Wigs
Always go for 100% European human hair for the most natural look.
If you want a low-maintenance wig, choose one that doesn't require regular styling.
Choose a density that matches your natural hair density for a believable look.
Go for a temple-to-temple lace front wig for the most natural hairline.
A hand-tied cap will be the best option if you're looking for a wig that's both comfortable and realistic.
FAQs Related to Realistic Wigs
Can You Tell When Someone Is Wearing a Wig?
If the wig is well-made and the person wearing it knows how to style it properly, it can be challenging to tell if someone is wearing a wig.
How Do I Know If a Wig Looks Realistic?
The best way to know if a wig looks realistic is to try it on and see for yourself! You can also ask for opinions from friends or family members.
How Long Do Realistic Wigs Last?
With proper care, realistic wigs can last for many years. Synthetic wigs usually last for about 6 months to a year, while human hair wigs can last for 2 years or more.
What's the Difference Between a Lace Wig and a Regular Wig?
A lace wig is a wig that has a lace base. The hair is knotted into the lace base, which gives the illusion of natural hair growing from the scalp. Lace wigs are more pricey than regular wigs but are also more realistic.
Transform Yourself Now!
Realistic wigs are a great option if you're looking for a way to transform your look! With so many colors and styles, you'd be sure to find the perfect wig for you. And with proper maintenance, your wig can last for many years. So what are you waiting for? Give yourself a new look today!