The methods for business development and successful marketing have changed significantly over time. And in the modern era of the Internet and high technology, they have moved into the digital space. Therefore, for any modern business website is a necessary element, without which it will be simply impossible to expand the audience and in general any development.
But only the right approach to the presence of a business on the Internet will allow it to really go beyond the specific city in which this business is based. And this approach includes not only the right design and placement of website advertising on appropriate platforms. It's also critical to keep an eye on the various website metrics that are important to user experience, search engines and other related services.
Content and customer communication
Website content is one of the key ways to convey information about the products and services your business provides to your audience. Therefore, content must be informative, intuitive, and systematic. Otherwise, website visitors simply won't understand exactly what you're offering them. And that, obviously, will lead to bounces instead of the desired conversions of visitors into loyal users.
Also, the content needs to be accessible. Literally. Users must be able to view content without problems or delays. To do this, the content must be of high quality, in high resolution (in the case of videos and images) and not too heavy so as not to affect page loading speeds.
That said, in addition to the content itself, users should be able to communicate what they think of the content. Simply put – users should have a way to leave feedback on products and services. Also, obviously, the website should definitely have a feedback form so that users can report problems to support (the webmaster) or the owner of the website in a timely manner.
Stability and availability
Even with perfectly crafted content and a great user communication system, a website will not gain new audiences if its technical part is unstable. What's more, an unstable website can completely ruin attempts to develop a business on the Internet. And there are two reasons for this.
The first reason is that decreasing uptime and increasing downtime lowers a website's rankings in search and ad impressions. Accordingly, a website that is in a low position will not appear on the first page of Google's search results. And in Google Ads, it will appear much less frequently. And the situation may deteriorate to the point where the website may be removed from those results.
The second reason is that users are unlikely to want to use a website that is unstable. Accordingly, they will not linger on such a website and will go to a competitor in search of an alternative. Moreover, the website may even begin to lose its audience.
To avoid this, you must be sure to connect the service to monitor the website. Ideally, a service like traceroute website service on host tracker and other tools from this service that even supports automatic monitoring and quick notifications. Then the website owner or webmaster will be able to quickly and efficiently restore stability to the correct operation of the website when problems arise.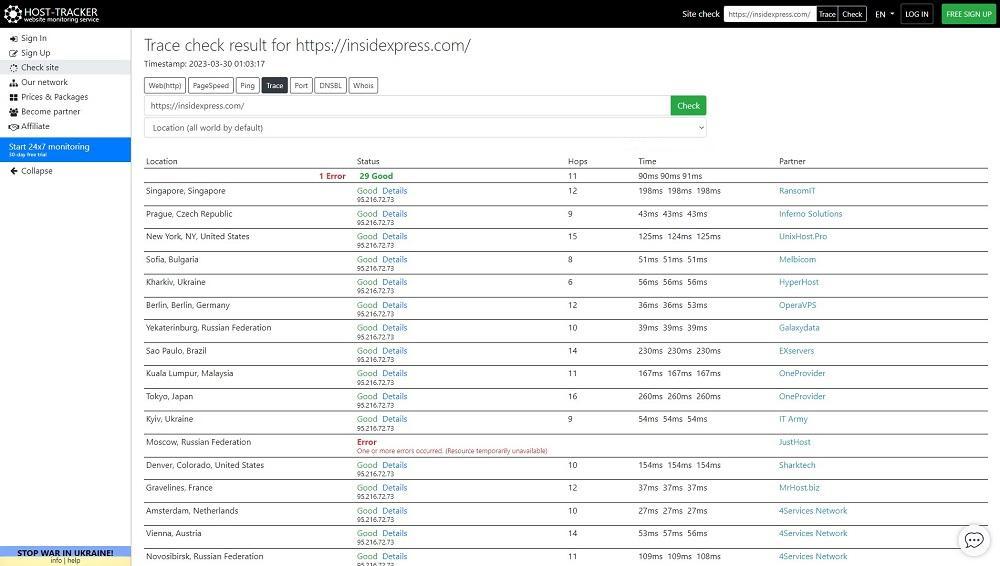 This way you can avoid many negative consequences associated with unstable and inaccessible websites. This in turn will lead to a greater chance of conversions and a large number of satisfied users visiting your site, who may become regular customers in the future if the content of your website and the related products and services that your business offers interest them.
Performance and loading speed
As with website instability, slow web page load speeds are fatal to website development and can lead to problems, up to and including the abandonment of loyal users. And in the same way, a decrease in website speed or overall performance is a very bad indicator for search and advertising services.
Accordingly, the website owner needs to make sure that everything loads quickly and without problems. And to do this, not only do you need to adhere to the rules of keeping the content small. It is also important to monitor how well the server on which the website is located.
Just like with a poorly stable website situation, the main way to maintain a high page load speed is to use the right website monitoring tools. Therefore, you should constantly check both the website and the server using all possible tools, from page load speed diagnostics and check port status of website on hosttracker, to check the stability of the server hardware using other tools on the same platform.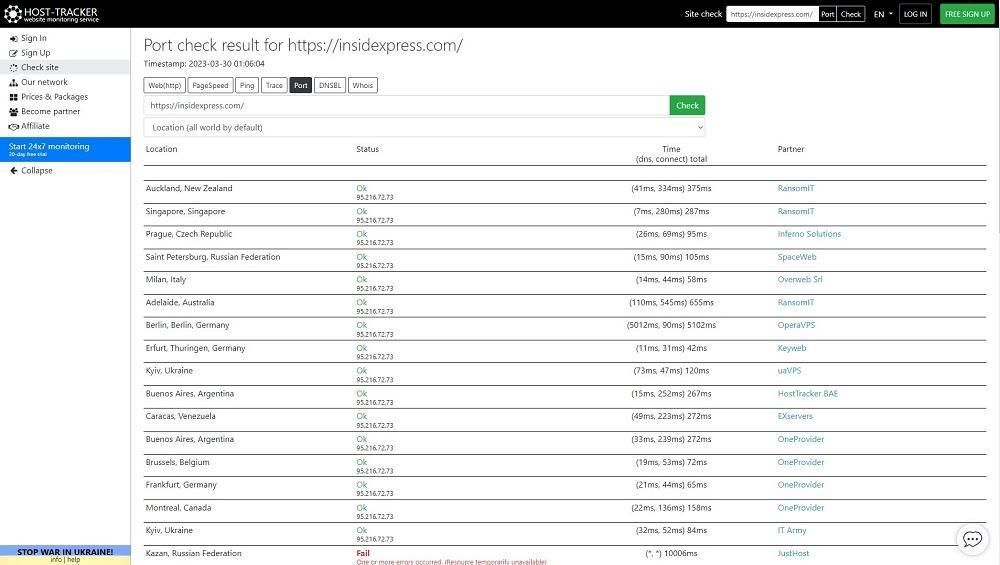 By monitoring your website and fixing problems with server performance, content optimization, CDN settings, and other things that affect website load speed, you can maximize the user experience on your website. And that means you'll get more potential customers and potential profits.
Overall accessibility and functionality
A website, no matter how stable it is and no matter how quality content is placed on it, will not be able to properly build an audience and develop if it is not clear and attractive to users. And here we are talking not about any specific parameters, but the totality of all the previously mentioned topics.
If your website has high-quality content, you constantly monitor it with host-tracker.com/en – website availability monitoring service, and you are certain that everything is working as it should, it's never a waste of time to take a closer look at everything from the users' point of view. Because only with this approach can you understand exactly what the website is missing, what can be improved, and what the problems are.
Taking all of the above into account, users must receive content quickly and it must be as clear as possible, so that even the most inattentive visitor can see exactly what you want to convey about your products and services. At the same time, the desired content should load quickly.
And if a user is interested in the products and services offered by your business, he should be able to get all the related functionality at once. The personal account, shopping cart, payment services, favorites, and generally any apps and features the user might need should work seamlessly.
This brings the topic back to website and server performance. They have to run as stable as possible, otherwise the user won't get the most positive experience possible from using your website. Which automatically means getting a bounce instead of the expected conversion. And that's very bad for business development, which is pretty obvious.
Therefore, if you put it simply, to achieve overall success in website development and raising its audience, you need to maintain everything, from availability and performance to content accessibility and service functionality. And to do this, you must constantly pay attention and monitor the situation from all angles.