Best Entertaining Places To Be At In Chicago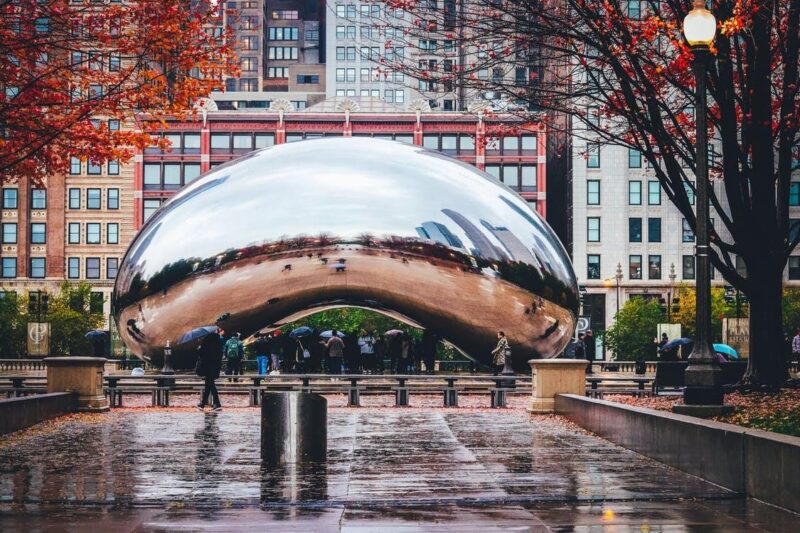 Are you aware that Chicago is at number five for recreation and entertainment activities and number twelve for parties and nightlife? Well, there's a reason for that. Chicago glows with streaks of energy and fascination worldwide with first-class cultural attractions and museums alongside blossoming industrial and commercial ventures.
There's something so magical about this city that whoever walks on its trails and roads feels at home right away. From the sweeping arc of its ever-expanding lakeshore to the towering skyscrapers, a feeling of pride radiates from the city. A trip to Chicago will make a tourist realize what an American city can accomplish through determination and hard work.
So with that in mind, what are the best and most fun places to visit in Chicago? There is a fortune of not-to-be-missed places in Chicago, many of which provide unique perspectives of the city's unforgettable skyline. But to help you make the most out of your experience, here's a list of all the fun and mesmerizing Chicago attractions you shouldn't miss!
Wrigley Field
Although this is a baseball park located on the North of Chicago, it has been the best platform for numerous other activities.
Since every landmark has a backstory, this park was initially known as the Weegham Park. However, that changed in 1926 when it rose to the surface and was named the "Wrigley Field." It was built on the soil once occupied by a seminary and is now home to Chicago's most friendly confines.
The park is notably famous for its ivy-clad outfield walls and an iconic manual scoreboard. Due to its adverse land and awe-inspiring visuals, the Wrigley field is also prudent for organizing other events such as carnivals, music festivals, and concerts.
Since we're on the topic of concerts, now might be a great time to tell you that Chris Stapleton will be coming live on July 23 at this very own location. So if you're a fan of country music, join Chris Stapleton at Wrigley by grabbing your tickets now and treat yourself to a delicious Chicago-style hot dog!
Bordel
If you're in Chicago with your significant other, then let the Parisian-inspired cabaret Bordel seduce you with its fanciful cocktails and licentious vaudeville entertainment or medieval times.
The entrance is very devious, but that won't bother you because you'll be drinking and dining on crimson couches, candlelight tables (that should be reserved ahead of time).
There will be a lot of dancing, magical acts, and a few sword-handling moments that'll catch you by surprise. Moreover, the drinks are pretty strong use under-utilized ingredients for beautiful infusions.
Lincoln Park Zoo
Another fun and entertaining thing for families or simply anyone who adores animals in Chicago is going to the Lincoln Park Zoo.
The Zoo has over 200 species from all around the globe. Sixteen different exhibitions showcase the fantastic animals that we share this world with. Some of the most amusing and incredible animals include otters, seals, and penguins. For a truly captivating experience, take a stroll down the Regenstein Center to witness African Apes.
Furthermore, tourists need to note that the Lincoln Park Zoo isn't just a display of animals. It is, in fact, one of the best places in Chicago to see beautiful floral arrangements. Every year, the gardening crew tends to cover 3,000 individual plants across 1000 species.
Chicago Jazz Festival at the Millennium Park
This costless four-day music burlesque takes place around Labor Day weekend in Millennium Park.
The festival is now in its 5th decade and began in 1974 when an event was organized in Grant Park to honor the late Duke Ellington.
The list of performers who have taken the stage by storm at the Jazz Festival is a complete rollercoaster, with names like Ella Fitzgerald, Sun Ra, Dizzy Gillespie, and Miles Davis.
Every year there is a helping of jazz monarchs sharing the bill with contemporary jazz performers and a few undiscovered talents.
Michigan Avenue & the Magnificent Mile
Michigan Avenue is genuinely one of the most eye-catching boulevards in Chicago. The city's legendary Magnificent Mile is a portion of Michigan Avenue, located north of the Chicago River, with countless boutiques, luxury shops, and galleries.
Some jaw-dropping attractions here include the Wrigley Building, the John Hancock Center, and the Tribune Tower. Besides that, it is known for its theaters, which provide for comedy acts, musicals, and touring plays. So check this place out if you're into the "drama."
Navy Pier
Another one of Chicago's must-see sites is the most hypnotic Navy Pier, which cuts into Lake Michigan and offers a series of exciting and family-friendly entertainment.
Lined with gardens, carnival rides, and a never-ending array of enticing attractions – the Navy Pier has something for every tourist to enjoy.
While roaming around the pier, you will come across everything from museums and theaters to performance spaces and public plazas with many festivals and cultural events.
Conclusion
As you can see, Chicago is perhaps the most beautiful place in America. And perhaps, loving Chicago is close to loving a woman with a broken hip – yes, it's that serious and real. So if you ever step foot in this city, be sure to visit all the places listed above and feast your eyes with exotic scenery and many eye-opening moments.
---
The Insidexpress is now on Telegram and Google News. Join us on Telegram and Google News, and stay updated.