8 Common Mistakes When Choosing Bridesmaid Dresses
Choosing bridesmaid dresses for your wedding can be a daunting task. There are so many options and so many decisions to make! Whether you're looking for something classic or modern, long or short, we've got you covered here on our blog. Here are eight of the most common mistakes we see brides make when choosing bridesmaid dresses.
1. Not Looking at the Fabric
The fabric is one of the most important things to consider when picking a bridesmaid dress, but it's easy to get distracted by the pattern or style when shopping around. If you're going for a more formal wedding, make sure your bridesmaids wear something luxurious and regal like silk, velvet, or satin-and if you want a more casual vibe, cotton or linen will give them a great flowy look. And for beach weddings, we recommend our favorite: mesh! It's cool and comfortable in hot weather and can be dressed up or down depending on your bridesmaids' wearing underneath it.
2. Not Taking Your Body Type Into Account
When choosing bridesmaid dresses, consider what styles will flatter your body type. For example, Cicinia has many beautiful dresses of various styles. If you have a triangle body shape (smaller bust, wider hips), go for a dress with a loose top and cinched waistline-it will draw attention to the middle of your body, balancing out the bust and hip areas. If you have an inverted triangle shape (larger shoulders, smaller hips), opt for a dress with an A-line silhouette accentuating your waistline.
3. Choosing a Dress That Doesn't Fit Your Venue
If you're having a beach wedding, you don't want to choose a long and heavy dress. If you're having a winter wedding, you might not want to choose a light-colored dress. The right dress depends on the season and venue of your wedding, so take those into account before deciding on anything.
4. Not Taking Color Preferences Into Account
Different hair colors, skin tones, and eye colors will accentuate some shades more than others. Consider the different skin tones, eye colors, and hair colors of your bridal party members before settling on a color for the dresses to make sure everyone will look their best.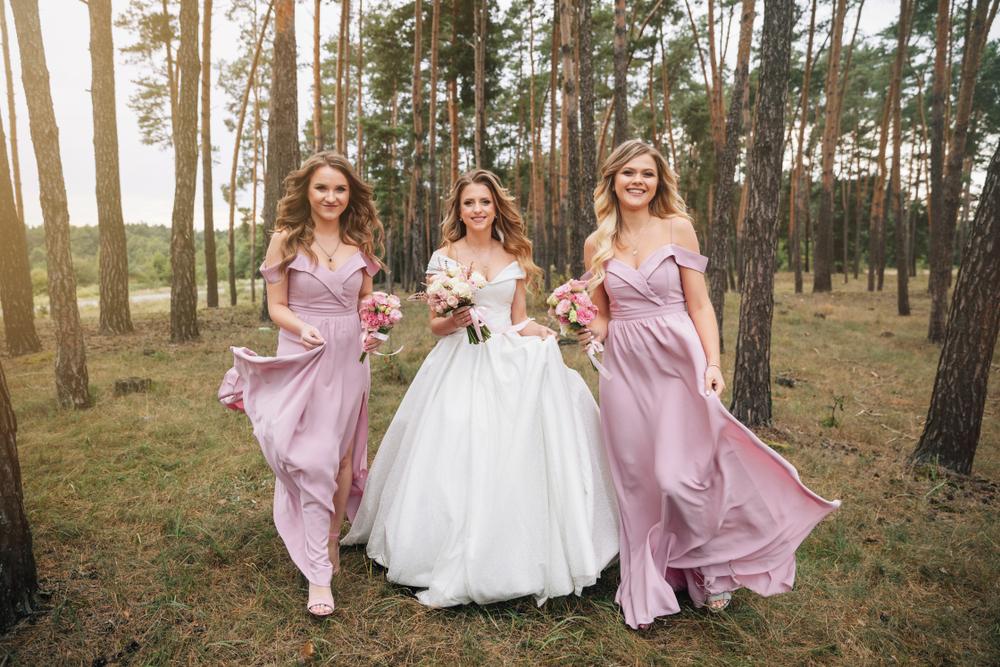 5. Considering Too Much of the Influence of Trends
If you want your wedding to look timeless in ten years, then forget about what's currently trending on Pinterest or Instagram. You may love a certain color scheme or dress style right now, but you might be ready to move on in six months or a year, leaving you with some costly regrets! Instead, think about which colors are flattering for your bridesmaids and what styles they feel comfortable wearing.
6. Failing to Check the Cost
You may have found the most perfect, beautiful dress in the world. You may want it so badly that you dream about it at night. But if it's $1000 and your friends are only going to wear it once, you'll have a problem with your hands.
So before you start looking, make sure everyone is on board with a general price range and style. Then, don't go over that range without asking first. This will help keep your friends from breaking the bank, but it'll also leave more room in the budget for things that matter-like bachelorette party supplies!
7. Choosing Dresses That Are Difficult to Alter
Even if you think that you have gotten the perfect dress for your bridesmaids, there will likely be some alterations made to each dress. When choosing a dress for your bridesmaids, make sure you choose something that will be able to be altered easily. For example, don't choose a bridesmaid dress with many embellishments on the straps-instead, look for one with straps that can be removed altogether.
8. You Don't Ask Your Bridesmaids for Their Opinions
You might think it's a nice gesture to surprise your bridesmaids with their dresses, but doing so could lead to major disasters on the big day. If one of your bridesmaids is allergic to synthetic fabrics and you choose a cheap, scratchy dress for her, she might not be able to wear your gift at all! Or what if you choose a dress that doesn't work with one of your friend's body types? Choosing a bridesmaid dress without consulting your friends is risky business-instead, pick out a few options and let your girls choose the style that works best for them.
Final Word
With so many things to consider when planning a wedding, it can be easy to get overwhelmed. There's a lot to think about, from the venue and decor to the menu and guest list. And one of the biggest decisions you'll need to make is what your bridal party will wear during your big day. There are so many styles, fabrics, colors, and patterns available, not to mention all the accessories options. It can all feel a little overwhelming. To help you navigate these sometimes tricky waters, we've compiled this shortlist of common mistakes you might want to avoid when choosing bridesmaid dresses for your wedding.
---
The Insidexpress is now on Telegram and Google News. Join us on Telegram and Google News, and stay updated.