What to Wear Horseback Trail Riding?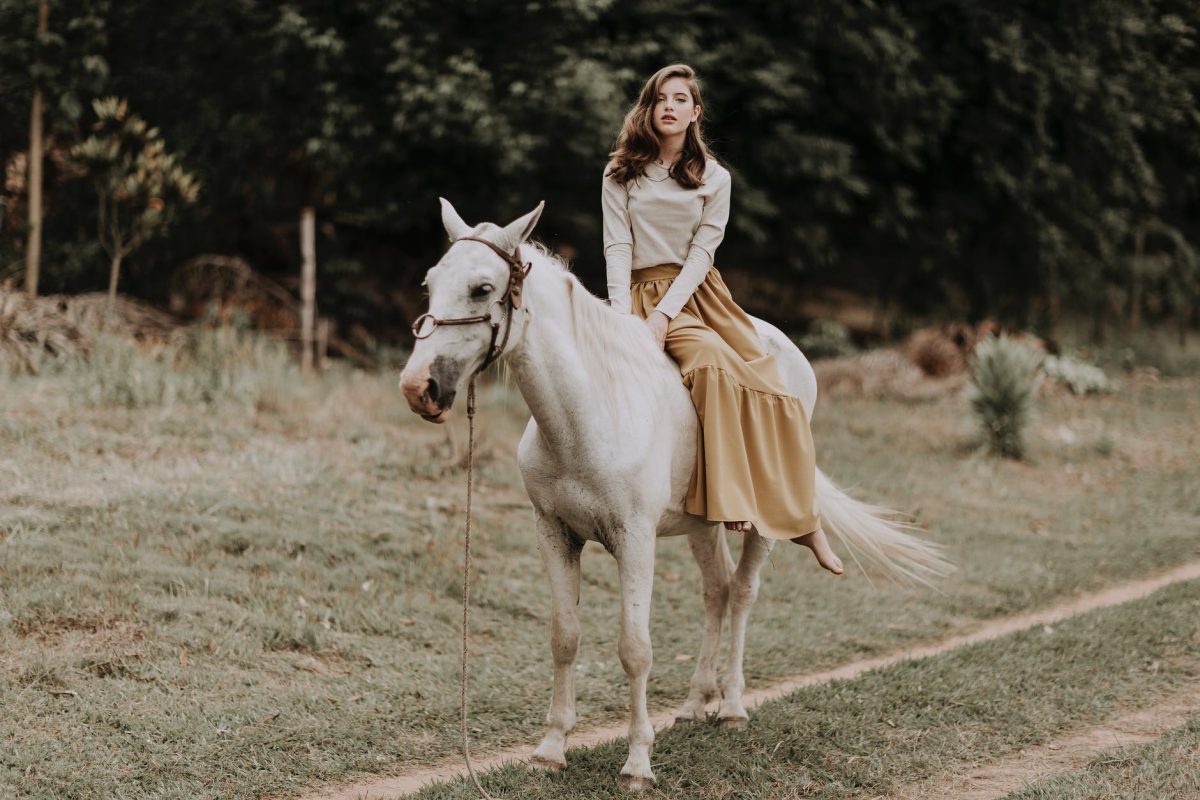 Horseback riding is an excellent and fun activity that is worth trying on your next vacation. However, if you have never tried it before, you may be concerned about what to wear. You may wonder what gear and riding attire you need and how to choose it. Don't worry – in this guide, we are going to tell you what you should and should not wear, for your first horseback riding experience and beyond. 
Basic Attire Your Will Need
If you are a beginner, you will need three basic things to ride safely. They are a helmet, sturdy shoes or toe-boots with a well-defined heel, and long pants. If you are not sure, you can always call the barn and ask them about the attire. They will tell you what you need exactly for your first safe ride.
Helmet
Horseback riding is a fun but dangerous activity. Therefore, a helmet is one of the most important things you need in order to minimize the risk of injuries. Make sure you have a special equestrian helmet, not a hard hat or bike helmet. Equestrian helmets are tested by the Safety Equipment Institute (SEI) and are made for protection against horseback riding-related accidents. 
You can borrow a helmet from a riding school, but it is always better and more convenient to have your own helmet that will provide you a great fit. When buying a helmet, make sure that it is snug but not too tight. Also, its chinstrap should fit securely and should not slide.
Long Pants
There are several types of long pants that are good for horseback riding. The two most common types are jodhpurs and breeches. They are similar to thick leggings or tights but made of stronger and more durable materials. They are also characterized by a form-fitted shape that prevents them from being caught in the saddle when riding, which increases your safety. 
If you do not want to spend money on special long pants for riding, you can wear jeans or sweats. However, for your comfort and safety reasons, they should not wrinkle or twist along the inside of the legs.
Footwear
Comfortable and durable footwear is also one of the most important purchases for horseback riding. There are no specific standards or rules, but your riding shoes should have an inch or an inch and a half heel. It is also important that your footwear does not have too much grip. 
There are two types of boots for horseback riding to choose from – long boots or short boots (also known as jodhpur). Long boots help prevent rubbing on the inside leg, but they may be uncomfortable for beginners. Moreover, long boots are usually more expensive. Short boots give more flexibility, and they are worn gaiters or half chaps. 
You can also wear cowboy boots that are characterized by pull-on design, narrow tow area, mid-calf height, and a great variety of styles and designs.
Rain Gear
If you are planning multi-time trips, rain gear is a must. You will need a short slicker and rain paints. Rain pants are also good for hiking, so having them in your wardrobe is a smart idea in general.
Also, make sure that your coat is not too long because it will flap around and bunch up in the saddle seat.
Other Accessories For Horseback Riding
There are also many riding accessories that you can buy or borrow to feel more comfortable while riding a horse.
Gloves. They give your hands more warmth and grip on the reins. Moreover, gloves also protect your hands from chafing.
Safety vest. The purpose of a safety vest is to provide additional protection for the rider's torso area. It is an important accessory for those who are learning to jump.
Long-sleeve shirt. It is recommended to wear a long-sleeve shirt that wicks sweat and protects your skin from the sun, heat, and dust.
Chaps. The purpose of chaps is to protect your legs from chafing. Chaps are also often worn in the show ring because they create a professional look and offer additional grip in the saddle.
Boot socks. Avoid wearing regular socks. Instead, opt out for a pair of long boot socks. If the socks are too short, they could slip and feel very uncomfortable inside the boots.
Neck wrap. If you decide horseback riding in summer, wearing a neck wrap is a life-saver. Neck wraps absorb moisture and help you stay cool for many hours.
What NOT to Wear Horseback Trail Riding?
There are certain things you should never wear horseback riding because they make your riding experience uncomfortable or even dangerous. Here is a list of things you should avoid:
Shorts
If it is a hot sunny day, you may think that shorts are a great idea. However, you should not forget about the heat of the saddle and the rubbing caused by the motion of the horse when you ride. That is why you see cowboys in movies wearing long pants or jeans, not shorts.
Flip Flops
Flip flops are an absolute no-go. Open-toed shoes are not allowed for safety reasons: a horse may accidentally step on your foot, which can be very painful if you are wearing flip-flops. Another reason is that open-toed shoes are not snug-fitting and can easily fall off on your ride.
Baggy Clothes
Wearing a bulky sweater, baggy pants, and a flowing scarf is a bad idea because they can get caught on the saddle and you can fall off. Moreover, a scarf can get tangled in the horse's legs and cause a fall leading to both your and the horse's injuries.
Horseback riding requires form-fitting and comfortable attire. Therefore, make sure that you have a helmet, proper long pants, quality footwear, and rain gear. However, there are also some things you should avoid for your own safety, including flip-flops, baggy and loose clothes, and shorts.
If you are currently shopping for horseback riding attire, make sure to check Equoware – an equestrian boutique with a great selection of high-quality and stylish apparel for riders. On our website, you will find a variety of quality products for both performance and pleasure.  
---
The Insidexpress is now on Telegram and Google News. Join us on Telegram and Google News, and stay updated.