Why do you need to design a logo?
A company needs a logo, a product needs a logo, an APP needs a logo, and a personal brand needs a logo.
The logo can deepen the public's impression, as if everyone sees the apple icon, they know that it is the apple brand (should not think of Snow White's poisonous apple?!).
Everyone has very good ideas, but they do not necessarily have the design ability to present their ideas concretely. If they are outsourced to designers, they may need a budget. For self-media operations or companies that are just starting, Costs can be saved.
However, as long as you make good use of tools, even if you are not a designer, you can make a decent logo. This tool is DesignEvo.
DesignEvo is a free logo design software. You can complete your logo in a few minutes through three basic steps: Select the logo template; Modify the design; Adjust the color.
The content covered in this article is as follows. Want to design a logo of your own? Then keep reading!
Why is DesignEvo recommended?
Because not everyone has the ability to design a logo from scratch, and even if you understand design, you may not be able to design a good logo.
Just like I can use design software and have produced a lot of marketing materials, logo design is not my area of expertise, so through DesignEvo, this design software can provide me with a lot of inspiration.
It is of course more convenient for those who do not know how to design. There are more than 10,000 ready-made logo templates to choose from, and you can change them according to your meaning.
Although outsourcing is also a method, you may need to pay a fee for each modification. For DesignEvo, it is very suitable for those who want to do it themselves or have cost considerations.
Advantages
10,000+ logo templates:
There are so many different categories to choose from, like
Animals & Pets
Arts & Entertainment
Business & Finance
Fashion & Beauty
Food & Beverage
work out
Travel & Hotel
The above are just some of them. The provided logo templates cover almost all the items of "food, clothing, housing, transportation and entertainment", which can meet the needs of most industries.
Icon and fonts
DesignEvo provides millions of icons so that people in need can make the logo more personalized. Besides, it has thousands of preset fonts.
Simple and intuitive operation interface
Those who have used similar software can get started easily because just drag, zoom in and out, change the text, and change the color to complete a logo.
If you haven't used it before, don't worry, the interface for designing a logo is not complicated, and there are not too many options to interfere with you. Click and play with each option, and you will find that designing a logo can also be very simple.
Provide vector graphics files without worrying about scaling distortion
The scope of logo application varies according to needs, some are placed on the website, some are made into the company's T-Shirt, and some are printed on physical products. So if the resolution of the logo is not high enough, it is likely to appear blurry or a little jagged.
The graphics files provided by DesignEvo include SVG and PDF, which are all file types that will not be distorted no matter how you zoom in or zoom out (a logo file that can be stretched freely).
You can save the logo image in the cloud
You don't need to design a logo on a desktop computer, and then upload it to your laptop or mobile phone, and you don't have to worry about the logo being adjusted to a different version, because the cloud is the latest file.
Disadvantages
Although DesignEvo is said to be free to use, the free version of the logo is not very practical, mainly because
The size of the free layout file is only 300 x 300, which is easy to be distorted and blurred due to enlargement;
The free version does not provide transparent PNG files;
Need to share DesignEvo and paste the code on the website to use;
Make a logo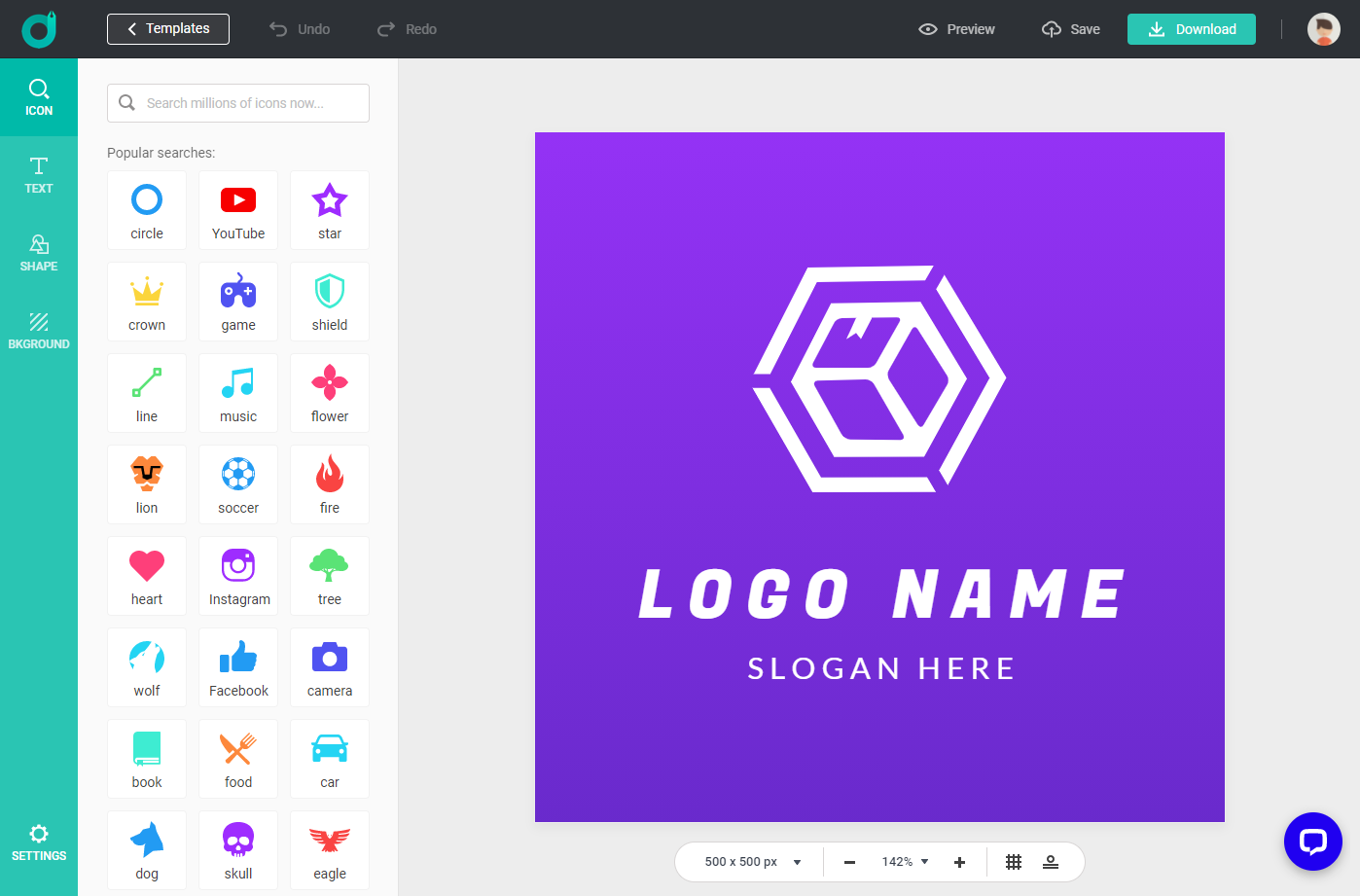 There are two ways to make a logo, which are:
If you want to make a logo quickly, choose a ready-made template to modify
If you want to design your own, start from scratch
But first, we need to register a DesignEvo account.
Register account
First click Register in the upper right corner. And if you choose your Facebook account or Google account to register, it is very convenient and fast. Otherwise, you can also register through email.
After the registration is completed, remember to click on the confirmation letter to activate the account in the mailbox.
Select a logo template
First, select the category you want on the left, then click the logo template you want to apply. If you want to design it yourself, start with a blank template. The operation method is the same.
Customize the logo
Then you can adjust color, change text, adjust transparency, etc. You can change the character by directly clicking on the text, and you can change the font and color at will. Directly select all the icons, you can change the color and adjust the alignment position at one time.
Download
Click Download in the upper right corner. At this time, you can choose to download it for free (low-resolution version), or use a paid plan (high-definition PNG image).
Summary
If you are a self-media operator but do not have design expertise, DesignEvo can help you quickly produce a logo.
If you are design expertise, you can also go to DesignEvo to find inspiration for designing logos.
Then there are the companies that are just starting. Usually, many things will come by themselves. For the logo part, you can go to DesignEvo to have a look.
The types of images provided by DesignEvo are quite rich, and the operation interface is not complicated. It is recommended to friends who have logo design needs.