Famous Paintings of Women Sitting in a Chair
Through the centuries, artists have depicted female figures in their artwork. In fact, since the early 1700s, many portraits of women have been created and admired by art enthusiasts all across the world. Not to forget, in the 1800s, it was the custom for art patrons and wealthy people to commission an artist to paint portraits of their family members.
In those days, the subject's pose was essential, and a portrait of a woman sitting on a chair was very popular. The posture in the chair could be very formal, or it could be a more relaxed "natural" posture. Many famous paintings of women are of a woman sitting in a chair. We'll briefly discuss 5 of these famous masterpieces.
Dolley Madison (Mrs. James Madison) by Gilbert Stuart
Gilbert Stuart (1755-1828) was an American painter widely considered one of America's best portrait painters. Although his unfinished portrait of George Washington is well known, there are other famous paintings by Stuart. One of these other famous paintings is his portrait painting of Dolley Payne Madison.
Dolley Madison was often the White House hostess for Thomas Jefferson, and her husband James Madison served as Jefferson's Secretary of State. From March 1809 until March 1817, James Madison served as President; thus, Dolley was First Lady. Mrs. Madison is one of the famous paintings of women for saving the portrait of George Washington from the White House before it was burned by the British during the 1812-war. 
Both Dolley and James Madison sat for Gilbert Stuart when he was staying in Washington, D.C. After the portrait "Dolley Madison" had been completed, it was hung alongside James Madison's portrait at their Virginia estate, Montpelier. In 1994, the portrait became part of the White House collection and is now referred to as the portrait "Mrs. James Madison."
Jeanne Hebuterne Seated in an Armchair by Amedeo Modigliani
Amedeo Modigliani (1884-1920), an Italian painter and sculptor, worked primarily in France. His works are in a modern style, and he is known for his portraits and nudes. His portraits were not received well during his lifetime, but later they became famous and sought-after. Among his artworks are famous portraits of women like the portrait of "Jeanne Hebuterne Seated in an Armchair."
He often painted people close to him, such as his patron, the Polish poet, and art dealer Léopold Zborowski and his life partner Jeanne Hébuterne. In this 1918 oil on canvas portrait, Modigliani depicted Jeanne Hébuterne sitting nonchalantly in a rather expensive-looking armchair, which Modigliani depicted in some detail.
Interestingly, this painting is part of a group of works created in 1918 with Hebuterne as the subject. In most of the portraits in the group, she is portrayed in the same clothes or position and always with the same chair. Art scholars believe that the group portraits must have been part of the same sitting session.
Anne-Marie-Louise Thélusson, Comtesse de Sorcy by Jacques Louis David
Jacques-Louis David (1748-1825) was a French painter in the neoclassical style, considered to be the most outstanding painter of the era. He completed many portraits during his career, including oil paintings of women. He was a well-connected and highly respected artist and received many portrait commissions.
Robertine and Anne-Marie-Louise were sisters who had married well but did not wish to have their portraits too extravagant. Instead, they wanted to wear relatively simple but intelligent clothing. In" Anne-Marie-Louise Thélusson, Comtesse de Sorcy," the lady is dressed formally but comfortably, sitting up straight on a red velvet chair. Her dress is made of white cotton, and she has a small shawl over her left shoulder.
Her makeup is entirely appropriate for the period, and her hair is in the classical style of that period. She is depicted as reasonably young but confident.
Amalia de Llano y Dotres- The Countess of Vilches by Federico De Madrazo Y Kuntz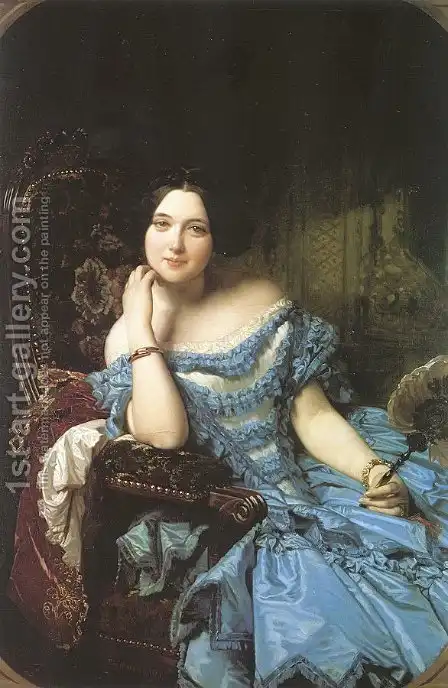 The Spanish painter Federico de Madrazo y Kuntz (1815-1894) is known for his portrait paintings of attractive women. In" Amalia de Llano y Dotres – The Countess of Vilches," Madrazo depicted one of Madrid's most beautiful and charming women during the reign of Isabell II of Spain from 1833 to 1868).
The portrait was created with a distinctly French touch. The casual pose of the lady conveys inspiration outside of the Spanish tradition and gives the artwork a graceful movement. With the lighting used by Madrazo, he made the whiteness of her skin tones stand out against the dark background.
The subtlety of certain gestures of the model, such as the delicacy of holding the fan, or the almost imperceptible touch of her fingers on her oval face, enhances her seductive look.
Madame Ramon Subercaseaux by John Singer Sargent
The American expatriate artist John Singer Sargent (1856-1925) is considered one of the leading portrait painters of his time. He created roughly 900 oil paintings, more than 2,000 watercolors, and countless sketches and charcoal drawings.
Sargent received many offers for commissioned portraits for patrons of the high society. The painting "Madame Ramon Subercaseaux" exemplifies his more traditional portraits. John Singer Sargent began painting the portrait "Madame Ramon Subercaseaux" in 1880 and completed it the following year.
Madame Subercaseaux was a young twenty-year-old woman and had recently married the Chilean consul to Paris. According to notes found in her diary, she enjoyed sitting for the portrait. She mentioned that the artist handled everything himself – from the clothing to the composition arrangement.
In this portrait painting, Madame Subercaseaux resembles a Spanish dancer in a white dress. The red flowers on her chest and her hair give a special touch of color. The lady sits at the piano, with her right hand on the keyboard and turning back on the chair towards the viewer.
Conclusion
Almost all painters in the 1700s to the early 1900s have created a few portrait paintings. Some artists are mainly known because of their famous portraits. Many of the portraits are portraits of women, and they are very often depicted where they are sitting in a chair.
---
The Insidexpress is now on Telegram and Google News. Join us on Telegram and Google News, and stay updated.