As we spend more and more time sitting down, whether it's at work, in front of the computer, or relaxing at home, it's become increasingly important to prioritize our health and well-being. One of the best ways to do this is by investing in an ergonomic chair that offers proper support and encourages good posture. In this article, we'll take a closer look at the benefits of ergonomic chairs.
Why Ergonomic Chairs Matter
First, let's explore why ergonomic chair are so important for our health. When we sit in a poorly designed chair, we can experience a range of negative consequences. For example, we may experience back pain, neck pain, headaches, and shoulder pain. Over time, these issues can become chronic and lead to more serious conditions such as herniated discs or arthritis.
The reason that these problems arise is that when we sit in a chair that doesn't provide proper support, we tend to slouch or hunch over, which places strain on our muscles and joints. Additionally, when we sit for long periods of time, we may develop poor posture habits that are difficult to break.
Ergonomic office chairs, on the other hand, are designed to promote good posture and reduce the strain on our bodies. They typically feature adjustable components that can be customized to fit the user's body, such as lumbar support, armrests, and seat height. By using an ergonomic chair, we can sit for longer periods of time without experiencing discomfort or pain.
The Benefits of Sihoo Ergonomic office Chairs
So what sets Sihoo ergonomic chairs apart from other options on the market? There are several key benefits to consider:
1.Customizable Fit
One of the standout features of Sihoo chairs is their ability to be customized to fit the user's body. For example, the Sihoo M18 chair features adjustable armrests that can be moved up, down, forward, and backward to accommodate different arm lengths and postures. The chair also has a 3D adjustable lumbar support system that can be adjusted vertically and horizontally to provide the perfect amount of support for the user's lower back.
2.Breathable Materials
Sihoo chairs are designed with breathable materials that help to prevent overheating and sweating, which can be a common issue with other chairs. The Sihoo M18 chair, for example, has a mesh backrest that allows for air to flow freely and keep the user cool and comfortable throughout the day.
3.Durability and Longevity
Sihoo chairs are built to last, with high-quality materials and construction that can withstand frequent use. The Sihoo M18 chair, for example, has a weight capacity of up to 330 pounds and is backed by a three-year warranty.
4.Multiple Adjustment Options
Another benefit of Sihoo office chairs is the range of adjustment options they offer. The Sihoo M18 chair, for example, has a height-adjustable seat that can be raised or lowered to fit the user's body. The chair also features a tilt mechanism that can be adjusted to provide the perfect amount of recline for the user's preferences.
5.Health Benefits
Using a Sihoo ergonomic office chair can provide a range of health benefits, such as reducing the risk of back pain and improving posture. By providing proper support for the body, Sihoo chairs can help to reduce strain on the muscles and joints and prevent long-term damage.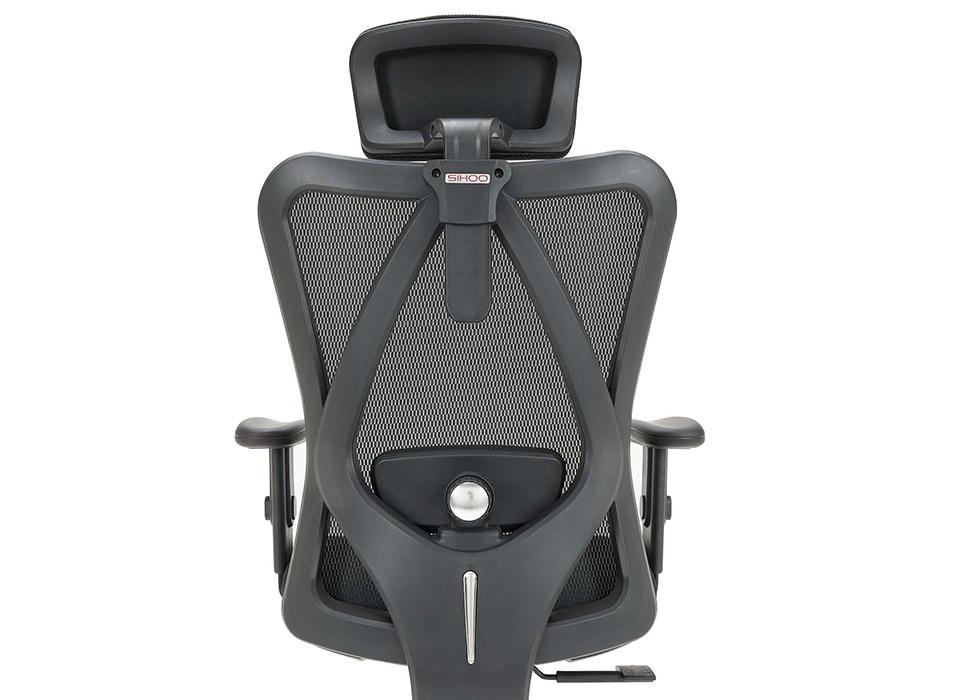 Choosing the Right Sihoo Chair
With so many different Sihoo chairs available, it can be difficult to know which one to choose. Here are a few tips to help you make the right decision:
Consider your needs: Think about howyou will be using the chair and what features are most important to you. For example, if you spend long hours at your desk, you may want a chair with extra lumbar support and adjustable armrests.
Look for reviews: Before making a purchase, take the time to read reviews from other customers who have used the chair. This can give you a better idea of its comfort level, durability, and other key features.
Check the dimensions: Make sure that the chair you choose will fit comfortably in your workspace and accommodate your body size. Look at the height and weight capacity of the chair, as well as the dimensions of the seat and backrest.
Consider your budget: Sihoo chairs come at different price points, so think about how much you are willing to spend. Keep in mind that investing in a high-quality ergonomic office chair can pay off in the long run by reducing the risk of health problems and improving your overall comfort.
Conclusion
Investing in an ergonomic chair is a smart choice for anyone who spends a lot of time sitting down. Not only can it reduce the risk of back pain and other health problems, but it can also improve your overall comfort and productivity. Sihoo is a brand that is known for its high-quality ergonomic office chair, with features such as customizable fit, breathable materials, and multiple adjustment options. By choosing the right Sihoo chair for your needs, you can enjoy the many benefits of ergonomic seating and prioritize your health and well-being.