Myrtle Beach: The Perfect Retirement Spot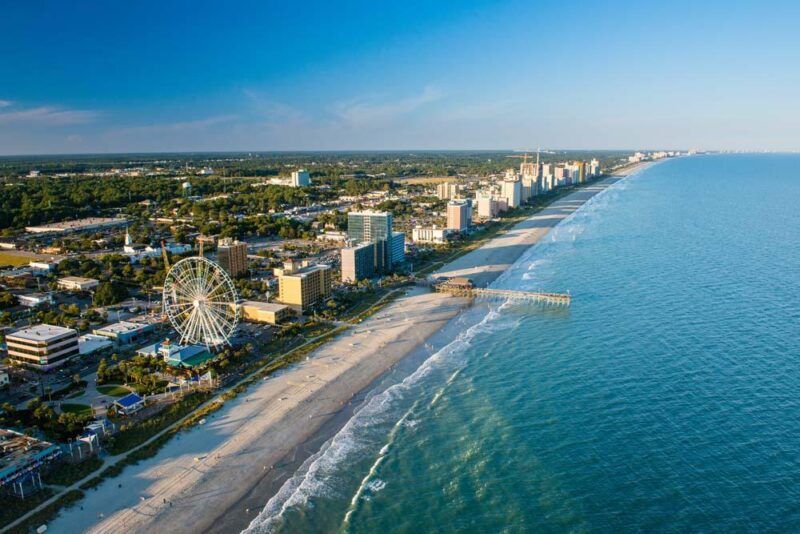 Twenty million people spend their holidays at Myrtle Beach. The beach has this welcoming atmosphere that makes tourists want to stay longer. The ambiance, and the overall feeling, are something that will make vacationers want to keep coming back. This is why people prefer to have their retirement in myrtle beach for the rest of their lives.
For those who experienced going there, it is easy to point out why they love the place. But luckily, for those of you who are still finding a place to stay for your retirement, we will lay down why Myrtle Beach should be part of your list of choices or better, your ultimate choice.
Myrtle Beach is also called the Grand Strand. It is called this way for a reason. It is a strand or an endless coastline, around 60 miles with various aesthetic beach getaways.
The thing about Myrtle Beach is that it is not just great for a temporary escapade. You can choose the Grand Strand as your lifetime destination. If you are the type who loves the beach and enjoys seafood and will not mind doing that for the rest of your life, this is the place to be. Here is a website such as www.homeguidemyrtlebeach.com where you can get detailed information about Myrtle Beach and why it is the best location for retirement.
Why choose Myrtle Beach for your retirement abode? Is Myrtle Beach a good place to live? Here are the reasons:
The Uninterrupted and Limitless Coastline
Sixty miles of coastline means an endless choice of beaches to go to. We have Surfside Beach, Pawley's Island, Cherry Grove, and Atlantic Beach among a few picture-perfect beaches where you can do your favorite beach activities like beach volleyball, swimming, surfing, playing Frisbee, or having a beach picnic with family or friends. There are countless things to do when you are on a coastline that knows no end.
Budget-friendly
You can enjoy such a beautiful place without breaking the bank because there are also limitless accommodations to explore that are within your budget. You have several options, and you can even find those with scenic beach views or near the ocean so that you can have a beach stroll if you fancy it. It is like having a vacation all your life! I mean, don't you want to get the best out of life during your retirement? Don't you like to reap the benefits of your efforts? Come on! You deserve it! You deserve to be in this place!
Golfer's Heaven
The Grand Strand is well-known for its roughly ninety golf courses. People familiar with Myrtle Beach coin it as the worldwide golf capital. This place has hosted sports publications and sports enthusiasts. It is not hard to see why.
Entertainment Galore
Even if you spend your whole life in Myrtle Beach, you will never run out of something to do. Aside from your water adventures and beach activities, there are several entertainment options. You can stroll at WonderWorks, an upturned house, or enjoy the under-the-sea scenario by sightseeing at Ripley's Aquarium. Aside from these things, you can enjoy a lot of food places, watch first-rate live shows in theatres, appreciate art through art shows, and so much more! There are new shows or entertainment every year.
Seafood Capital
The Murrells Inlet Marsh Walk is well-known as the seafood capital of South Carolina. Food is a basic necessity for living, but you cannot just settle on ordinary foods. After working for many years, you deserve to eat the best foods to celebrate your hard work! Of course, just because it is a coastline, it does not follow that seafood is all there is! There are also delectable cuisines like steak and so much more. Explore the restaurants or food joints. Find a place or food that your tastebuds will love.
The sky's the Limit!
Myrtle Beach is the home to the famous SkyWheel. It has the highest view of the stunning Atlantic Ocean. For those who do not have acrophobia and love adventure, this is the perfect spot to go to appreciate the unparalleled scenery of the city and coastline. There are also options for those with acrophobia to still savor the views without the anxiety, like the RipTydz Oceanfront Grille and Rooftop Bar.
Go on a Shopping Spree!
If you are the shopping-enthusiastic kind, you can also delight in the shopping outlets along Myrtle Beach. There are local selections for everything from your basic needs to souvenirs you can send to your friends. You can also find some fancy things. Go on a shopping spree and treat yourself!

Interesting Locals
One thing you need to consider in finding a place to stay for your retirement is the community or the kind of people you will encounter to make your stay stress-free. Locals in Myrtle Beach are very outgoing, charming, and welcoming. You will never have dull moments with them. They have great personalities and flair.
Sports Junkie's Paradise
Golf is not the only sport Myrtle Beach can offer. You can enjoy watching the games of Myrtle Beach Pelicans, the minor league baseball team on the Grand Strand. Aside from that, Myrtle Beach hosts numerous sports events, particularly in the John T. Rhodes Sports Centre.
Nature Lovers' Utopia
When you hear or read about Myrtle Beach or Grand Strand, you might have the impression that the place is all about beaches. But based on the reasons pointed out, Myrtle Beach has various things to offer, from sports, entertainment, food, attractions, shopping, and more. One more thing Myrtle Beach is proud of is its natural beauty. It is the taste of utopia when you walk for a breath of air in the Brookgreen Gardens, Conway Riverwalk, or Murrells Inlet MarshWalk. These places are perfect when you want some time for serenity.
Can you envision yourself living in such a place until you reach old age? If that is so, do not wait any longer. Look into available residential homes, choose where to stay within the 60-mile radius, and find the ideal place you can call your home. Pack your bags and have the best life ahead!
---
The Insidexpress is now on Telegram and Google News. Join us on Telegram and Google News, and stay updated.