All you need to know about the great benefits of Impress clear aligners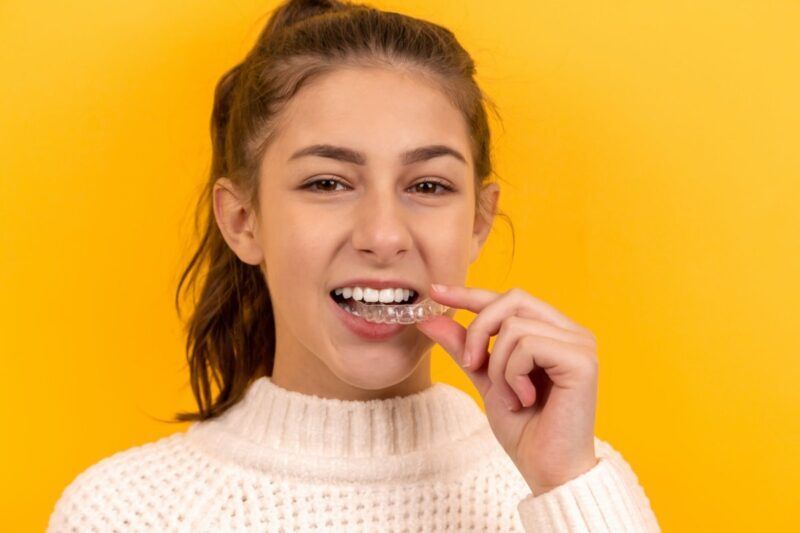 We all appreciate our general health and even we all know the importance of oral health. But what we are not all aware of is the importance of our smile and how influential it is in our daily lives, in our surroundings and in the way we are perceived by others. Our smile is, in short, our calling card.
On the other hand, we must not forget that a healthy smile goes beyond aesthetics and it is necessary to know that with proper hygiene, clean teeth and a well cared for image, you reflect good oral health.
Would you like to have an aligned, harmonious and beautiful smile? If you are thinking of starting orthodontic treatment, but you don't want the brackets to be visible, clear aligners are the solution.
Today at Impress you have detailed articles where they explain in depth the great benefits of clear aligners, an innovative treatment that modifies the position of your teeth in a practically invisible way, infinitely more comfortable and that will help you achieve the smile you want without you even noticing. Do you want to know more? Join us in today's post!
What are clear aligners?
This advanced treatment guarantees optimal results for those patients who are looking for a safe, discreet and effective method to modify their teeth. Clear aligners is responsible for determining, avoiding and treating dental and facial flaws so that the patient can achieve a harmonious, aligned and functional smile.
Clear aligners are a very effective and aesthetic procedure that allows the teeth to be modified by means of transparent plastic splints that are custom designed for each patient.
When talking about personalised splints, these are placed in such a way that each time the aligner is replaced, it causes a controlled movement in the teeth. This movement progressively aligns the teeth according to the guidelines set by our orthodontist for each case.
The greatest benefit of this treatment, and the main difference with traditional orthodontics, is that the aligners are not fixed and are not attached to the teeth, so they can be removed for eating and brushing. They are also made of a transparent material that makes them very discreet and practically invisible to the naked eye.
The benefits of Impress clear aligners
This treatment guarantees an innovative, comfortable and discreet system designed to fix different types of problems of deviation in the position of teeth, crowding, overbite, etc.
This modern treatment is one of the most successful orthodontic systems among patients of all ages, and has led to it becoming fashionable in dental clinics for the following reasons that we explain below:
Aesthetic
This is one of the main benefits why many patients opt for invisible treatments, as you will not notice that you are wearing them. The transparent splints are practically invisible when you wear them and do not modify the shape of the face as can happen in conventional treatments.
Therefore, it is the best solution for patients who cannot tolerate the possibility of having such a visible and unaesthetic object in their mouth for a prolonged period of time.
Prevents tooth wear.
As with other treatments, because the denture is positioned correctly, it helps the teeth to fit perfectly, protecting them from enamel wear caused by bad bites and deviations.
Greater comfort
Clear aligners offer you much more comfort and efficiency, the splints are made exclusively for the patient.
There are no uncomfortable elements such as wires and brackets, which cause canker sores and discomfort. Patients can also free themselves from the splint whenever they wish, making their daily life much more comfortable, especially in terms of oral hygiene.
Removable system
Although it has many other virtues, the fact that it is removable is undoubtedly the most distinguishing feature of clear aligners compared to other orthodontic systems.
Patients who opt for this system can decide when to wear and when to remove their braces. This guarantees the possibility of removing the brace at important events, during daily activities such as eating, drinking, brushing teeth, etc. This is thanks to the fact that the invisible splints have the characteristic of being removable.
It should be taken into account that if one day the brace is worn for less hours than indicated, it is necessary to compensate the following days in order to achieve the desired effect. It is recommended that the brace is worn for 22 hours a day.
Tailor-made treatment
Clear aligners are made of a high-strength thermoplastic polymer and are custom-made for each patient.
In this way, they will adapt better to the patient's teeth and their case, allowing them to be almost unnoticeable. This tailor-made treatment is possible because it has been implemented with 3D digital radiology technology.
Guaranteed effectiveness and shorter treatment times
Finally, clear aligners are not only the most aesthetic, also the most effective on the market. For this reason, results begin to be seen in the first few months after the placement of the aligners, making it an effective solution from the very first moment. This factor is fundamental for patients, as they see the effects of the splint first hand and in much shorter periods of time.
---
The Insidexpress is now on Telegram and Google News. Join us on Telegram and Google News, and stay updated.