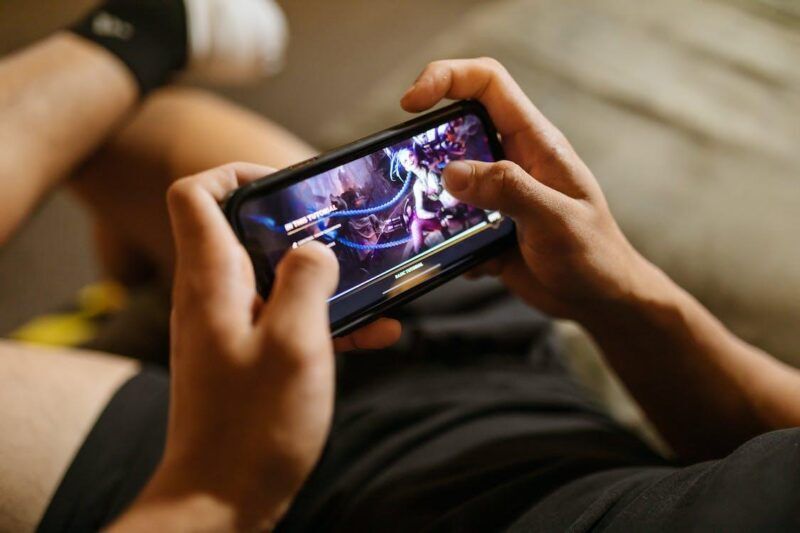 Gaming is a favorite hobby for a lot of people now. Many are just as likely to play a video game – or board games – to relax at the end of a long day as they are to switch on the television.
Indeed, some of these dedicated games fans love gaming so much that they create a space in their homes just for it. It is not hard to figure out why gaming popularity is growing though; it's just that both the games themselves and the tech used to play them are getting better all the time.
The Emergence of Mobile Technology
The point when mobile phone tech developed to a level where people could play games on them was a key point in the rise of gaming. Being able to play a game on a mobile made it a lot easier and more accessible than it was before.
After all, while hardcore gamers might be happy to set up a home gaming room for console play, that was never likely to appeal to the wider public. The ability to play on a mobile helped to open gaming up to other demographics – especially women.
The Convenience of Mobile Gaming
The main reason for that is that mobile gaming is convenient and can be enjoyed on the go. That changed the image of gaming into something anyone could do during spare moments in the day, rather than a 'geeky' activity for teenage boys!
Now that games developers have cottoned on to the fact that a wider demographic like gaming they are creating games with widespread appeal. These are some of the best to play on the move in 2022.
The Best On-The-Go Games
1. Candy Crush Saga
This game has become a true mobile gaming legend since it was launched. It is a simple but fun game that involves moving colored candies around on a board to try to create matching-colored lines.
The longer your line, the better your score – it is pretty much as simple as that. It is one of the biggest mobile gaming apps ever created though and is every bit as addictive as actual candy!
2. Mobile Casino
Mobile casinos have become very popular as many players prefer the convenience of playing casino games at a time that suits them. Now, most of the top casino sites available are mobile compatible and have casino mobile apps for players to access. The most popular sort of mobile casino game is definitely the slots. That is because they are just better suited to quick on-the-move play than poker or roulette.
People can give top slots like Pharaoh's Way or Viva Slots Vegas a quick spin during their lunch hour. It is a lot more fun than staring at your computer monitor!
3. Puzzles and Survival
Puzzle games have proven a big hit with mobile gamers, and this is one of the most unusual. The plot of Puzzles and Survival sees the earth suffering an apocalypse that creates an army of the undead.
That may sound like a pretty standard action game set-up, but the twist is that here you have to fight off the zombies by moving around on-screen tiles. It doesn't sound like an effective way to kill zombies, but it works!
The mix of story and puzzle is really unusual and gives it a more concrete, less abstract feel than other puzzle games.
4. Temple Run 2
This sums up so much of what people love about mobile games. It has a straightforward but engaging premise where you have to move the runner past the various obstacles in his path, using the phone controls and by shifting the mobile itself.
That makes it great to play while taking a train or bus to and from work, or during breaks in the day. Access to games fun at spare moments in the day is what is best about mobile gaming.
5. Mafia City
This is a mobile strategy game where you take on the role of a head honcho in the mafia. You have to work out how to manage that, constructing buildings and bringing more money in.
There are also two different game-play modes. You can play against others by trying to kill them before they kill you, or choose the co-operative mode and collaborate to build up criminal empires.
Why Gaming On-The-Go is Popular
The enthusiasm that people have for on-the-go gaming is largely about convenience, but that is certainly not the only reason. It is also a really good way to make something out of those 'dead' spots in the day when you are stuck on public transport or the canteen at your workplace.
Nor is this enthusiasm limited to mobile tech-based games. A lot of people are finding old-fashioned board games to be great for staving off boredom during longer journeys.
Companies are now producing special smaller versions of popular board games to capitalize on that. Some of the best ones include:
Guess Who?
Uno
Battleship
The Floor is Lava
Travel Scrabble
In conclusion, gaming on the go is the best way to make the dull parts of everyday life into moments full of color and excitement. There are certainly plenty of great mobile games to choose from.
---
The Insidexpress is now on Telegram and Google News. Join us on Telegram and Google News, and stay updated.