Top startups today have no time for routine tasks related to data entry and administration. This is where sales automation comes into play for the best startups, which helps optimize your manual tiresome and time-consuming assignments. 
Marketing automation allows your sales assistants, managers, and CMOs to focus less on the organization of the whole marketing process and more on their direct function – selling.
Luckily, there is a wide choice of special tools that can help you automate lead lists building, send sales emails and follow-ups, schedule meetings and calls, and perform other tasks.
Why Is Sales Automation Important for Your Startup?

It Helps Save Effort and Time 
Marketing automation can help increase sales efficiency by 14.5% and decrease marketing expenditures by 12.2%. Besides, business owners, CEOs, and CMOs claim that the biggest advantage of sales automation for their company is saving time at 30%. 
With business administration getting tough these days, 68% of companies use marketing automation somehow.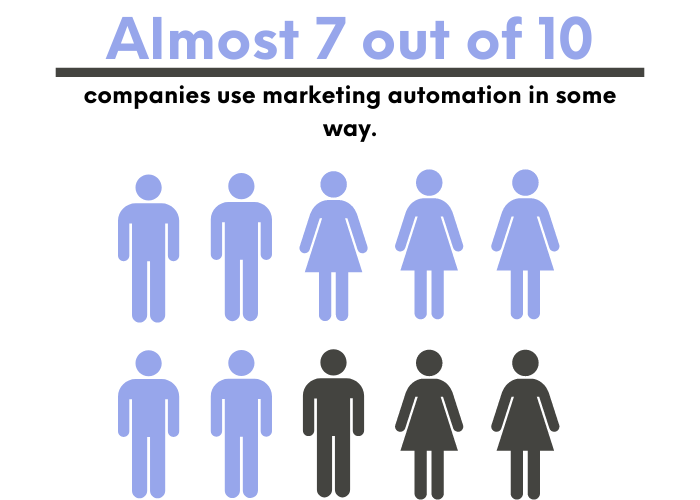 It Provides Insight Into the Effectiveness of the Sales Process
An increase in earnings (85%) and marketing productivity (69%) are the main reasons businesses want to implement automated lead nurturing. Moreover, 63% of companies are beating their rivals, thanks to sales automation.
It Helps Identify Sales-Ready Leads and Maintains Relationship with Leads

When used to nurture leads, marketing automation tools show an increase in qualified leads. The reason is simple – automated instruments give you detailed data about your prospects. This helps push every deal down the sales funnel and propose a personalized, data-driven offer so that your lead is more willing to make a buying decision.
It Helps Grow Revenue
As reported by 60% of users, implementing sales automation tools in their business has improved the number of leads that convert to deals. And this increase can be as high as 225%! Even just after one month of use, 3x more prospects can be converted to sales. 
Types of Sales Automation
Modern technologies and artificial intelligence can help you save way more time than you could imagine. If you automate routine tasks throughout each sales funnel stage, you will have enough freedom to focus on interesting and creative tasks. As a result, you will sell more.
You will be surprised at how much can be automated by software:
1. Automate Sales Prospecting
If you implement a dynamic CRM, you can use countless criteria to filter out the most suitable leads based on the required conditions. You can also get a personalized email, Slack notification, or in-app alert once a new lead matches your demands. Put differently; you will keep getting a prequalified list of contacts regularly without lifting a finger.
2. Streamline Processing and Enrich Your Lead Database
The more knowledge about the target audience and existing clients you have, the more powerful you are. Data about your lead's job position, presence on social media, solutions their business provides, existing suppliers, etc., will help you successfully get in touch with them.
3. Stop Entering Data Into CRM Manually
Set up workflows in your marketing automation software to track records of your qualified leads automatically. For instance, you can determine all the contacts that have submitted the form or downloaded the price list as "qualified."
4. Automate Your Email Campaigns
Do you still send each email manually to all your leads or copy and paste the same messages? Alternatively, try using email templates, personalize, and schedule letters for every client's best conversion. You can try using tools like Snov.io for that purpose.
5. Manage Marketing Collateral
Sales reps spend tons of time searching for useful content or writing texts to send to their leads. Ensure your business has a сorporate shared Google Drive folder where you store valuable files. This way, it will be easier for you to access the most important marketing documents, saving time during every contact with prospects.
6. Schedule Calls, Meetings, Mailouts, etc.
Planning a meeting with a sales lead over email can take time and reminds us of a tennis game. You suggest one meeting time to your prospect; they propose another option, then you offer a third solution, etc. This is tiresome and can also destroy the impulse in your sales negotiations.
Instead, you can use one of many meeting-scheduling tools (like Calendar, for example). They give your contacts direct access to your calendar and enable them to plan the meeting in any free time span if you dd customized scheduling links 2020 to your email messages and signatures. Most such tools grant free trials, so it is easy to study and test them.
7. Use AI-Powered Analytics of Sales Conversations 
If you want to analyze your calls, check your campaigns' efficiency, and improve your sales approaches, try using sales communication AI-software. It allows you to quickly check what topics you discussed in a call, what rivals you mentioned, and study the talk-to-listen portion. Tools like Gong and Chorus pull out key pieces of your talks and give you AI-powered insights.
8. Automate Lead Management 
If you spend hours managing your CRM instead of making calls and bringing contracts, try automating all the activities related to prospects and deals. The market offers plenty of instruments to record your conversations, schedule meetings, and plan emails for you. Check if your current CRM offers workflow automation and start implementing it.
9. Manage Deals and Papers
Today, most of the contracts and offers are mailed and signed over the internet. Tools like Hellosign or Adobe Sign offer solutions for e-signing, lots of impressive analytics features, and functions that can help boost your conversion rates. 
This is just a small part of the many marketing activities that can be automated. In the age of AI and robots, all types of routine organizational tasks can be automated, while a real live contact with the prospective or existing client should remain to be carried out in person.
How to Choose the Best Sales Automation Tool?
Selecting the best tool or several tools that suit your needs might take some time, as many options on the market claim to be the best. We hope these pieces of advice will help you choose the best instruments for your business.
Decide What Processes You Would Like to Automate
Check all marketing processes you have at the moment. Does lead qualification take much of your daily routine? How much time do you spend on lead nurturing, prospect engagement, and content marketing daily? Do you schedule follow-up calls or send reminders manually? How long does it take to organize bulk seasonal offerings? 
There can be dozens of similar questions. Analyze your answers and think about what processes should not take so much time or where you can avoid manual work from you or your team.
Make a List of Essential Functions
After you've chosen the main processes, try to create a list of specific features you'll require, such as email marketing automation or mobile availability. If you do not select features and must-have's your business needs, you might end up with a complex product you cannot use. Choose the required functions and, after that, compare several platforms according to the list of criteria.
Finally, Test the Product in Practice
Once you have specified the must-have functions, prioritize them and shorten the list to several most important items. After that, compare the software once again to see which tool you can start using right now. It would be great to test-drive each platform by getting a free trial or an interactive demo to get a more comprehensive vision and make a more prepared decision. 
This might look like a lot of work, particularly if you are working hard to help your company survive. Still, experience proves – a couple of hours invested now will pay off a dozen times in the future. 
Top Sales Automation Tools
Snov.i0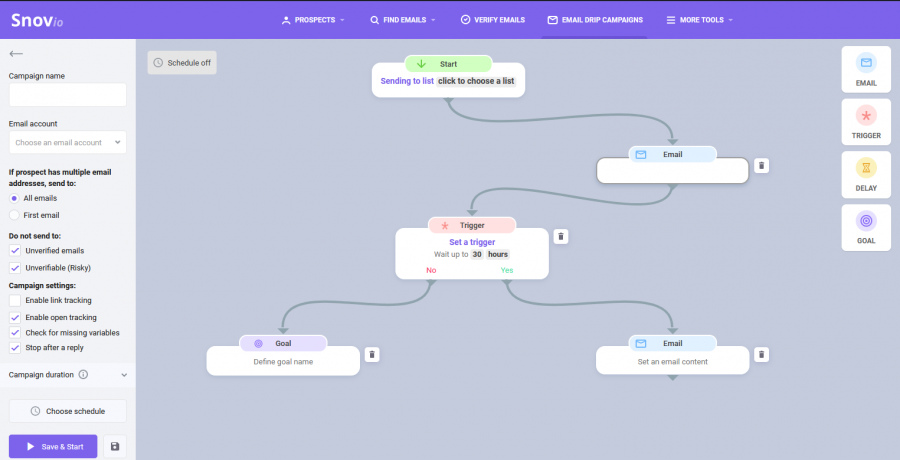 Snov.io is an integrated cold outreach automation platform used by sales departments, marketers, startups, and simply anyone who needs high-quality outbound research and outreach tools.
This all-in-one toolkit allows you to speed up creating and managing lists of prospects and bring your brilliant ideas directly to their inbox. It works for every stage of your marketing process:
Non-stop lead gen and verification.

You can automate your lead generation, pump up your funnel with targeted leads, and accelerate conversions with this solution. It boasts 98% email deliverability thanks to the high quality of new and existing leads guaranteed by the 7-tier verification.

Nurture, engage, convert.

Boost engagement with effective nurturing based on automated outreach. Personalized triggered email drip campaigns can help you easily convert leads and smoothly move them down the sales funnel. Schedule campaigns for existing clients, automate follow-ups and track email responses from your Gmail.

Study market rivals.

Snov.io research tools allow you to monitor what sets you apart from your competition and discover new ways to convert. You can check full company profiles and tech stack behind your rivals and leads. 

Grow and scale your business.

Keep your efficiency always in control – sync across platforms with over 2,000+ powerful integrations. 
Pricing: Snov.io offers unlimited freemium with credits that are renewed every month. Paid plans that start at $33 per month billed annually.
Moosend

This marketing automation platform comes with some features that promise to help users generate more clicks and sales. Surprisingly easy-to-use and with a short learning curve, Moosend allows you to create and send email campaigns designed to respond to the prospect's needs.
From user onboarding to abandoned cart sequences, this platform allows you to design workflows that make sense for your audience and lead prospects further down the sales funnel. 
Users can select any event to trigger the automation, such as visitors browsing a specific page or viewing a product, and set it in motion in a simple manner. What is more, you can test one of the ready-made automation workflow recipes.
Pricing: Moosend offers a free forever program for up to 1,000 subscribers that includes most features. Paid plans start at $8 per month billed annually.
Juro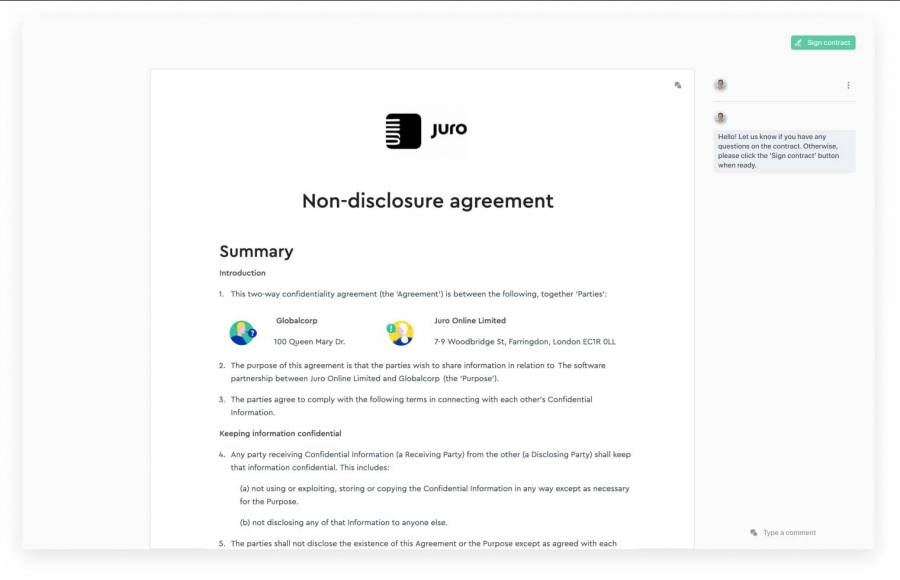 There is nothing worse than a sales team getting a prospect to commit before month-end, only for the deal to get stuck in the contracting phase. Word documents fly back and forth, versions go missing, data is lost, and visibility is non-existent. 
Sales teams at high-growth startups are turning to new, in-browser tools to end this manual process. Juro is a contract collaboration platform that enables your team to self-serve, agree, and manage routine contracts at scale from one unified workspace.
Salespeople use a natural language Q&A flow to spin up a contract in seconds, from a template over which legal has oversight. They can even generate contracts directly from Salesforce, with two-way data sync making sure versions are the same in both platforms. 
Parties negotiate in-browser in the sidebar and can then eSign securely on any device to help salespeople close deals on the move. Post-signature analytics help stakeholders spot bottlenecks and friction to keep deals moving fast and make contract management data-driven.
Juro is used predominantly by high-growth tech startups with lots of contract volume, like Deliveroo, Wolt, and Babylon Health. 
Pricing starts at free, with bespoke plans depending on the integrations required.
Paperform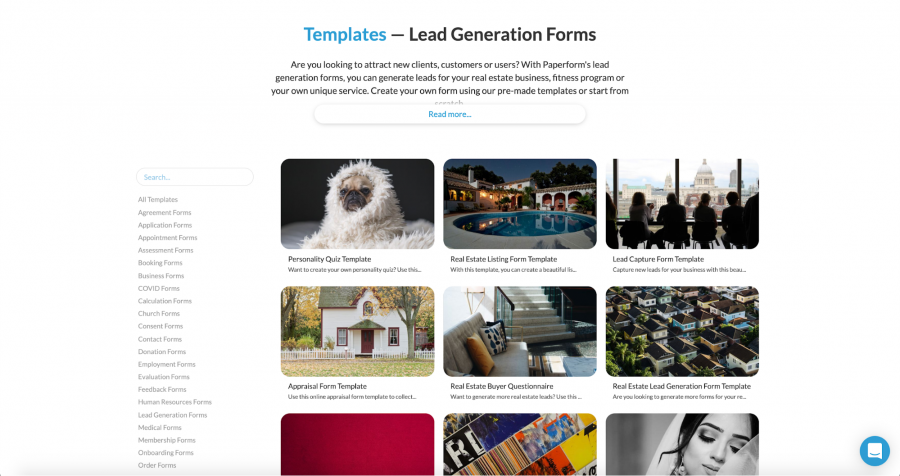 Capturing leads is the first and most foundational step in the inbound-driven sales process. Paperform is a versatile form and page builder that might help you do just that: collect leads and kick off the conversation seamlessly and elegantly.
Paperform stands out among the alternatives thanks to its modern interface and customization features. It is easy to make forms and landing pages look unique and fit your company's broader brand.
There are more than a hundred form templates available, so you will never have to start from scratch no matter what kind of form you are looking to build.
The built-in email automation feature makes Paperform even more useful. Your startup sales department is likely to have limited bandwidth, especially when responding to leads across different time zones.
You might leverage Paperform to send out automated yet highly-personalized emails to leads that submit your forms. Later, once the conversation is already ongoing, your sales reps can catch up quickly and take it further.
Pricing: Paid plans start at $15 per month.
Outfunnel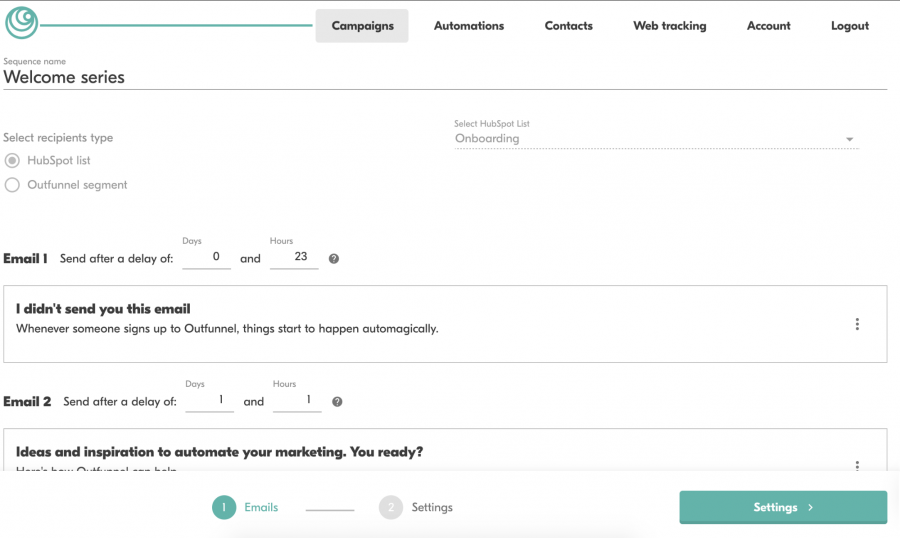 Outfunnel is an email marketing tool with deep CRM integration. Whether you are using Pipedrive, Mailchimp, or Copper, it has you covered. You'll be able to create drip or one-off campaigns with defined segments for your sales team using lead-scoring while automating and reducing tasks that were previously done manually. 
With dynamic sender information and smart workflows, Outfunnel will help you stay on top of your leads while continuously allowing you to build up relationships with your current and future customers.
Pricing: Outfunnel offers a free two-week trial. Paid plans start at $19 per month.
HelpCrunch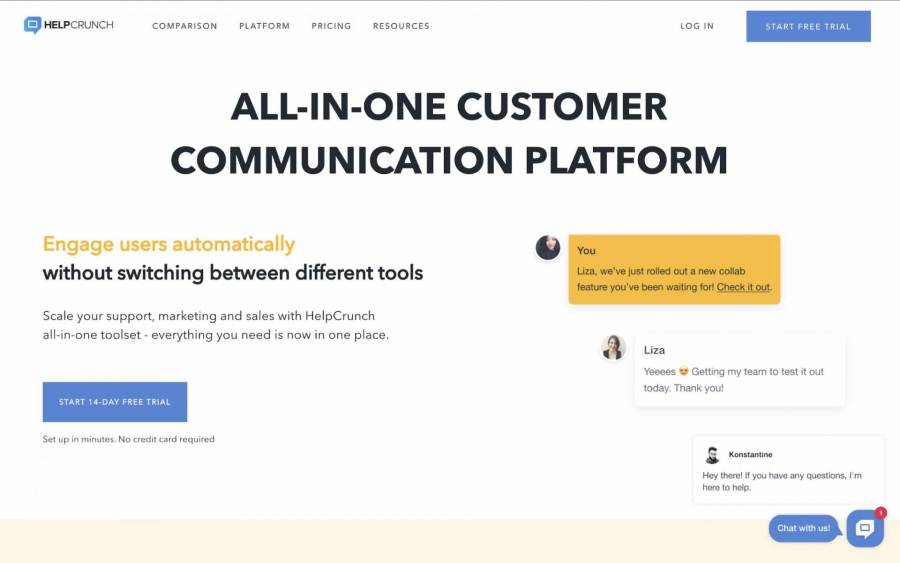 As an all-in-one customer communication tool, HelpCrunch allows businesses to automate numerous aspects of the sales process. Once you sign up for the tool and install its live chat widget, you can put inbound lead generation on autopilot.
First, HelpCrunch helps businesses engage their visitors proactively with the help of automated chat messages. You can offer help in your website's strategic places, such as product, pricing, or checkout pages, and initiate conversations on your terms.
People will see a quick and convenient way to contact you and will not hesitate. Simultaneously, you can use live chat to collect leads' contact information and pre-qualify them on the go with pre-chat and offline forms. Visitors will specify their names and email addresses and choose a department that will better cater to their needs.
While the shared inbox will contain all incoming requests in chronological order, sales reps can create their custom inboxes to filter conversations by their tags, assignees, departments, etc. This way, they will be able to assist warm leads on a first-priority basis.
To keep the conversation going, your team can follow up on their leads with the help of automated email sequences and accelerate deal closure.
Pricing: The 'Live chat' subscription by HelpCrunch is available for $12 per month per team member billed annually. If you want to enjoy the 'Live chat + Emails' plan, its pricing starts from $23 per month per team member.
Zapier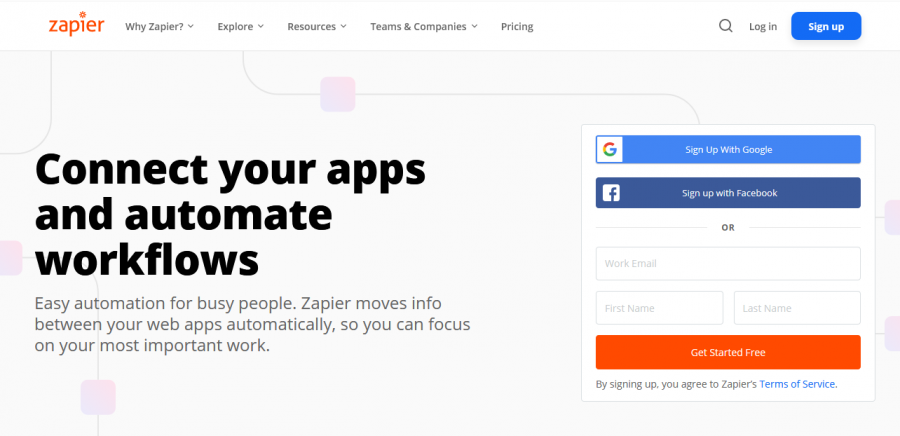 Zapier is a tool that brings together all your favorite apps, such as Gmail, Slack, Mailchimp, and more. You can automate repetitive tasks, and you do not need to know coding, or rely on developers to build the integration.
Create thousands of different workflows (Zaps), e.g., schedule events in your Google Calendar directly from new Trello cards, save your Gmail attachments to Dropbox, or post tweets across multiple Twitter accounts. 
Zaps consist of a trigger and one or more subsequent actions. A trigger is an event that initiates your workflow. Zaps automate your processes in the background, allowing you to concentrate on more important tasks. 
Zapier counts every task you run through your Zap. To decide which Zapier plan suits you best, you should keep in mind the number of tasks your Zaps run. 
Pricing: The service offers a free trial so that you can study some popular Zap templates. Paid plans start at $19,99 per month billed annually.
Hootsuite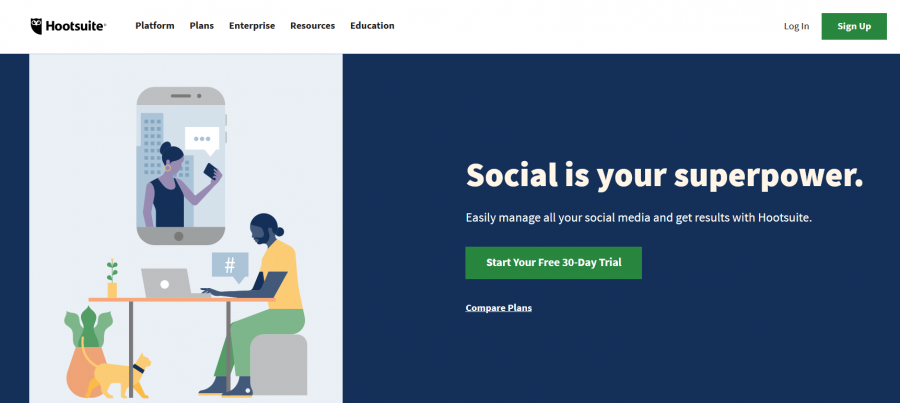 Hootsuite is an SMM platform that supports social network integrations for Facebook, Instagram, Twitter, LinkedIn, and YouTube. The tool helps you boost your organic and paid ads' effectiveness with the Hootsuite automated ad solution. 
Hootsuite allows you to advertise on social media easily. Manually or automatically, you can target key audience segments or market niches by age, location, and user interests. The tool can help you reach more of your social media audience, monitor feedback about your brand and rivals, and use social analytics to make data-driven business decisions.
Besides, its mobile apps allow you to manage your presence on social networks from any location. You can also connect your existing instruments with over 250+ apps and integrations in a single toolbox. 
Pricing: A 30-days free trial is available. Paid plans start at $19 per month.
Wrapping it up
Nowadays, more and more businesses realize the power of sales and marketing automation tools and implement them in their workflows. Accordingly, new instruments in this market niche are emerging a dime a dozen. 
Analyze your needs and select the best toolkit that will help you seamlessly automate your whole sales funnel: lead generation, nurturing, engagement, follow-ups, conversion, and growing a loyal audience.

Image Credit: Ola Dapo; Pexels
The post Top‌ ‌8‌ ‌Sales‌ ‌Automation‌ ‌Tools‌ ‌for‌ ‌Startups‌ ‌in‌ ‌2023 appeared first on ReadWrite.