Manohar Lal Khattar cancels 'kisan mahapanchayat' at Haryana's Karnal after farmers cause chaos
Earlier on Sunday, the Haryana Police used water cannons and lobbed teargas shells to prevent protesting farmers from marching towards Kaimla village where the event was slated to be held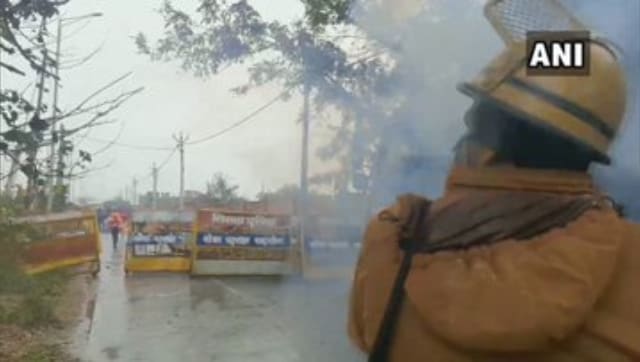 Haryana chief minister Manohar Lal Khattar on Sunday cancelled his visit to the Karnal district after farmers protesting against the Centre's contentious farm laws shouted slogans and carried black flags.
Earlier on Sunday, the Haryana Police used water cannons and lobbed teargas shells to prevent protesting farmers from marching towards Kaimla village where the event was scheduled to be held.
Farmers, who have been demanding that the laws be repealed, had earlier announced their opposition to the "kisan mahapanchayat" that had been planned for Khattar's visit.
Police made elaborate security arrangements for the chief minister's visit to the village where he was set to speak about the "benefits" of the three farm laws. Police also put up barricades at the entry points of the village to prevent protesting farmers from reaching the venue.
While 1,500 police were reportedly deployed as security personnel for the meeting, protesting farmers marching towards the venue breached six checkpoints and reached the helipad where Khattar was supposed to land.
"The farmers then moved to occupy the venue of Khattar's kisan mahapanchayat, where around 2,000 farmers, most of them BJP supporters, were waiting," The Indian Express reported.
At the event venue, farmers damaged the stage and broke chairs and tables, PTI reported.
The programme was cancelled due to an unruly act by farmers at the behest of BKU leader Gurnam Singh Charuni, BJP leader Raman Mallik claimed, while Congress leader Randeep Singh Surjewala slammed Minister Khattar for using water cannons and teargas shells against farmers.
Find latest and upcoming tech gadgets online on Tech2 Gadgets. Get technology news, gadgets reviews & ratings. Popular gadgets including laptop, tablet and mobile specifications, features, prices, comparison.
---
The Insidexpress is now on Telegram and Google News. Join us on Telegram and Google News, and stay updated.