Why You Need a Power Rack For Your Home Gym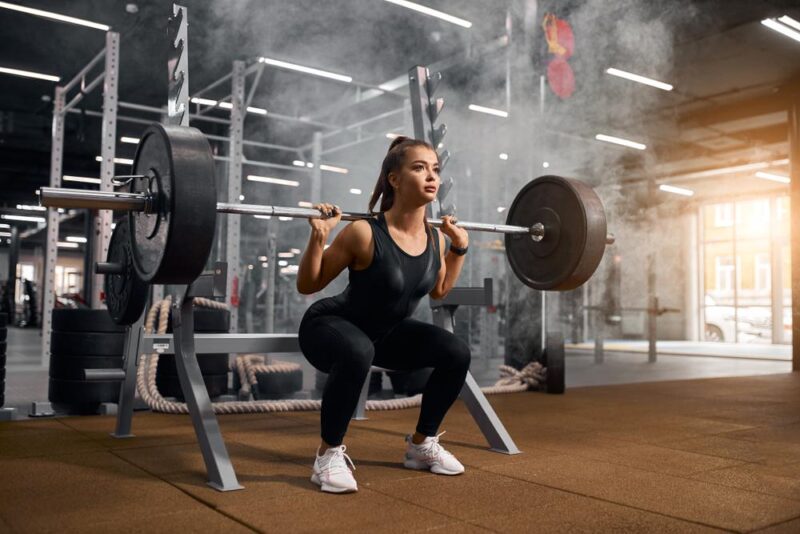 Whether powerlifting or bodybuilding, pushing yourself to the very edge is imperative to see noticeable gains.
Weightlifting is crucial to increasing your muscle gains and boosting muscular strength. However, while lifting weights has its zeal and thrill, you can not ignore the high possibility of a failed rep. To be safe, the help of equipment, a trainer, or a partner is super essential.
One of these pieces of equipment that render its unconditional help is a power rack. Since everyone wants to avoid falling weights and failing reps, the power rack ensures to help you pull off your squats and pulls without jeopardizing your health.
Most of us paint a picture of a gym in our heads at the mention of a power rack. However, so many of us like to pick the functionality of a gym and blend it with home comfort. In that case, you always start with purchasing free weights and essential gym accessories but purchasing a power rack is always a decision that gets you double-minded.
But if you think of it from the perspective of a fitness enthusiast, you would realize that having a power rack signifies discipline when it comes to training. Whether you are performing barbell squats or overhead presses, if you are not loading weight to the bar and doing it safely, then you are never going to explore your full potential.
It adds a great ton of variety to your workout routine, minimizes the risk of injury, and makes sure all your lifts are stronger. If anything, giving it a cornerstone in your home gym will just be doing yourself a favour.
Pros of Power Rack
The power rack provides you with the following benefits:
Ensures Safety
Since power racks have spotters and other catches, they allow you to perform your exercises precisely. The horizontal bars of the rack act as mechanical spotters, which allow you to drop the barbell if you can't hold the rep anymore. In other cases, one always fears the dropping of the barbell over their face.
A power rack ensures you carry out your workout without any fear of injury and get to your fitness goals smoothly and fearlessly.
Enhances Strength
The primary reason for lifting weight is building herculean strength in your muscles. You can perform various compound exercises such as deadlifts, chin-ups, and bench presses which recruit multiple muscle groups.
With the employment of a power rack, you can lift heavier weights without compromising your safety.
Improves Stability
Power racks with extra bar holders with front safeties and weight horns help improve your overall stability. Since stability is crucial when performing deadlifts or pull-ups, you need to keep your body stiff and upright throughout the movement. The power rack ensures this with its safe and sturdy bars.
Compatible for Home Gym
If you have free weights to work out, combine them with a power rack, take out intensity, and challenge up a notch. It's excellent for storage and is a house of power to elevate your workout routines at home.
Versatility
The power rack might not be of diversified use, but it becomes a multifunctional machine when paired with free weights. You can perform various exercises by adjusting the bar to the preferred height of the workout.
Other than that, you can attach various accessories to it too. By moving the spotters to the base, you can attach cable pulley or resistance bands to the rack to perform other strength training exercises. Here are the number of exercises that you can perform with a power rack:
Barbell back squats
Overhead press/Shoulder press
Bench press
Shoulder barbell pulls
Barbell rows
Barbell front squats
Deadlifts
Pull-ups and chin-ups
Bicep curls with barbell
Hanging leg raises
Tips to Choose the Most Suitable Power Rack
Plenty of Space
Before purchasing a power rack, think of a corner that would be perfect for it. The width and height of the power rack must align with the area you wish you place it in. Remember, the wider the power rack, the better since it allows you to perform many exercises. So, pick a space that can accommodate the width of the rack.
With that being said, you must analyze the adjustability and customization of the rack. It should be able to be adjusted and customized as per the exercise. Also, make sure the power rack has a safety pin. Safety pins with small spaces in between would be perfect as it enables you to figure out the ideal height of the exercise you wish to perform.
The Attachments
When investing in a power rack, you must ensure that it supports multiple combinations of exercises. When selecting a quality home power rack, you need to assess the attachments and safety standards.
Ensure all essential weightlifting exercise accessories like pull up, monkey bars, chin-up bars, dip handles, cable crossers, plate holders, etc. You should have a considerable amount of weight on each side of the rack to make things convenient for usage. 
Handling Weights
The power rack you decide to purchase must be equipped with a significant weight capacity. A robust rack that can hold a massive weight is necessary for a bodybuilder. You might think it's not the need of the moment, but you can reach your ideal weight level faster than you think.
The stronger you get, the more weight you will be ready to lift. This makes the support of larger weight capacity critical. No one would want to invest hundreds of dollars in a much stronger rack after a few weeks. So make a wise choice!
Safety Standards
Working out with heavy weights can be difficult and risky. Your power rack must be designed in a way that prevents it from collapsing and falling on you. In the case of a beginner, you must practice with the rack first to ensure you are figuring your way around it well. Therefore, it's better to learn its usage first before purchasing.
To prevent any injury, you need to identify several safety factors, such as safety slings and spotter arm arrangements. In addition, it must be anchored to the floor and have a sturdy steel construction.
Whether squatting or pushing, a durable power rack that makes your weightlifting experience safe and enjoyable makes for an ideal choice. DMOOSE ensures that its customers build strength without compromising their safety. It supports 700 pounds of weight and comes with all the relevant attachments to train with utmost ease. 
Final Thoughts
Powerlifters or weightlifters are always seeking an excuse to lift heavier weights. In that case, it's essential to ensure that it's safe to raise them. Power racks provide that for you through their safety attachments and spotters. In addition, they add more variety to your workouts as you can perform chin-ups, deadlifts, squats, benching, and so much more.
---
The Insidexpress is now on Telegram and Google News. Join us on Telegram and Google News, and stay updated.