Shake and Shimmy to This High-Energy, Low-Impact "Love Shack" Dance Cardio Workout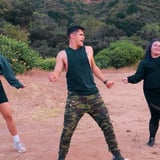 The Fitness Marshall knows how to make a dance cardio workout something you actually want to do. He brings his high energy and enthusiasm to the throwback classic "Love Shack." Just like the song says, "the whole shack shimmies when everybody's movin' around," you will be doing plenty of shoulder shimmies and side steps. The best part? This video is low-impact, so it's perfect for beginners. In just five minutes you'll get your heart rate up and boost your mood! Clear out some space, hit "play" on the video above, and get to dancing!
---
The Insidexpress is now on Telegram and Google News. Join us on Telegram and Google News, and stay updated.