How to Smoke Hookah: An Ultimate Guide for Beginners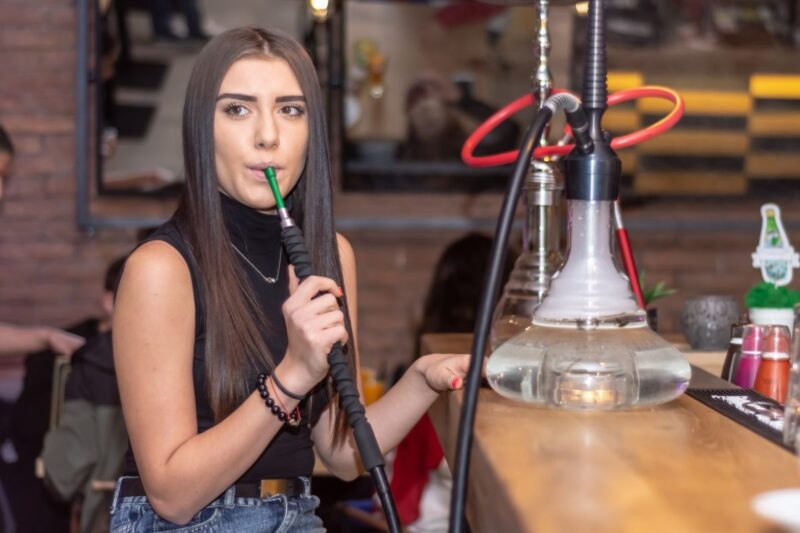 Did you know that the first hookah pipe dates all the way back to the 16th century?
Originally used in Middle Eastern countries like India, Persia, Turkey, and Egypt, hookah pipes have now become a global phenomenon.
If you've never used a hookah before, keep reading. Everything you need to know about how to smoke hookah is explained below.
What Is a Hookah?
A hookah is a type of water pipe. It's typically used to smoke flavored tobacco and is passed in a circle from person to person.
Hookah pipes come in a variety of shapes and sizes and go by many other names, including argileh, goza, narghile, and shisha.
How to Choose a Hookah Pipe
Before we start breaking down how to use a hookah, let's touch on how you can choose the best pipe for your needs. The following are some factors you should consider when checking out different options:
Materials
Start by considering the materials from which the pipe is made. Many connoisseurs swear by brass pipes, which are heavy, solid, and long-lasting. They do require regular polishing, though, or else they'll lose their shine. Other options that require less maintenance include stainless steel and copper.
Height
Ultimately, the ideal height of your hookah pipe is a matter of preference. Some people prefer a taller pipe, while others are content with a shorter one.
Most experienced hookah users tend to gravitate toward pipes in the 28-32-inch height range. However, there are plenty of other sizes available that may be more comfortable or easier for you to handle.
Hose
Look for a hookah that comes with a flexible hose that's long enough for you to use comfortably.
Be wary of hookah pipes that come with multiple hoses. They may seem like a good idea at first, especially from a hygiene perspective. They can be cumbersome to use, though, especially when multiple people start trying to smoke at the same time.
Price
Hookah pipes are available at a variety of price points, from as little as $30 or less to over $100. In general, the pricier hookah pipes will be made with higher quality materials and will last longer than the cheap ones. If you only plan to use your hookah occasionally, though, you may be able to get away with a cheaper one.
Reviews
If you're still feeling a little lost while shopping, look up reviews online. This can help you see which hookah pipes are working well for other users and can provide more insight into the ones that are most worth your hard-earned money.
How to Choose Hookah Tobacco
Once you've chosen a hookah pipe, you'll need to choose some hookah tobacco or hookah-shisha to go with it. Here are some tips that can help you narrow down your options and find the best tobacco for you:
Consider the Flavor
Hookah-shisha comes in a wide range of flavors from mint and cherry to lemon meringue pie. If possible, choose a few different flavors so you can mix up your smoking experience and find one that lines up with your preferences (and the preferences of those who will be smoking with you).
Look at the Ingredients
Check the ingredient label to make sure the tobacco doesn't contain anything you're sensitive to or allergic to. That would be a recipe for disaster, especially if you're going to try and smoke it, right?
If you're shopping online, keep in mind that most Hookah-Shisha retailers will include a list of ingredients on the website for easy reference.
Read Reviews
Finally, as with the hookah pipe itself, don't be afraid to check out reviews for a particular brand of tobacco before buying it. This can help you learn more about the flavor and overall quality of the product and helps you to avoid spending money on something that doesn't taste good or burn well.
How to Set Up a Hookah
Once you've made your purchase, your next job is to learn how to put together a hookah. Follow these steps to set up your pipe and ensure it works properly:
Start by opening up your hookah package and laying out all the pieces (compare against the box or instruction manual to make sure nothing's missing)
Place the hookah stem into the vase and make sure it's airtight
Place the metal trap on top of the hookah stem (it may fit loosely over the stem or snap in place)
Insert the hose end into the hookah stem's hose port
Cover the top of the stem and suck in through the hose to check the airflow (there should little-to-no air intake)
At this point, your hookah should be ready to use (as long as there are no airflow problems).
How to Smoke Hookah
Now, let's get into how to pack a hookah and smoke it. Here are the steps you'll need to take to have a positive smoking experience:
Remove the hookah stem and fill the vase with water
Put the stem back in place (it should be covered with about one inch of water
Break up your tobacco and place it in the bowl (sprinkle it in so it's loose and air can pass through it)
Place a metal screen over the top of the bowl
Place the bowl on top of the hookah stem
Light the coals and wait until they become red-hot, then place them over the top of the bowl
Break the coals into small pieces and distribute them on the head (don't add too many, otherwise, the smoke will be too harsh)
Inhale through the hose, then exhale the smoke and vapor through your mouth
Keep in mind that it may take a couple of minutes before the hookah starts to smoke properly. Be patient!
Smoke Hookah with Confidence Today
If you've never learned how to assemble a hookah pipe or how to smoke hookah, it's easy to feel intimidated when you're first faced with one. The good news, though, is that now you're armed with all the knowledge you need to smoke hookah with confidence.
Want to learn more about hookah or other ways to smoke? If so, check out some of the vaping-related articles on our site today for some additional tips and tricks.
---
The Insidexpress is now on Telegram and Google News. Join us on Telegram and Google News, and stay updated.