A Quick Guide To Reclining Beds
If you struggle to get comfortable in bed, a reclining bed could be just the ticket to a good night's sleep. People with reduced mobility also benefit from adjustable beds because they make getting in and out of bed easier.
The great thing about reclining beds is that they look like standard beds, so they don't attract any unwanted attention or raise any questions when not in use. If you want a typical bedroom, this is a massive bonus that can't be overlooked.
This article will answer everything you need to know about reclining beds.
Let's jump in!
What is a reclining bed?
Reclining beds have an adjustable bed base powered by mechanical lifting arms fed by an electric motor. The base is heavy because it contains all those parts, and the base is always solid and upholstered to hide the electronics.
Do reclining beds have weight limits?
The base and electronics of reclining beds are load rated and can happily lift and manoeuvre a person when in bed. Most adjustable beds support people up to 25 stone, so they are ideal for most adults.
What is a five-part adjustable slat system?
A five-part adjustable slat system refers to the individual sections of the slats; in this case, five sections can move independently. Five-part adjustable beds offer great adjustability and suit most sleeping positions.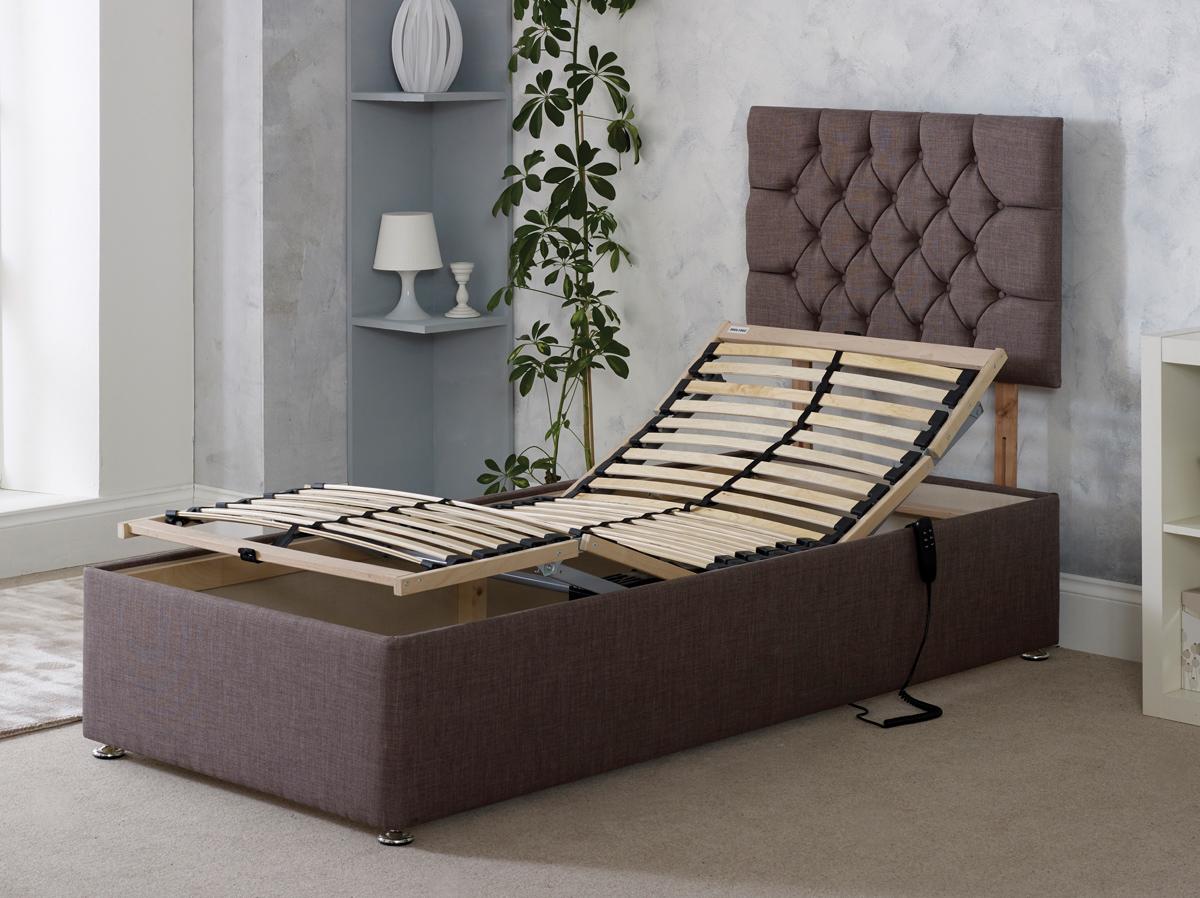 Is a reclining bed the same as an adjustable bed?
The short answer is yes! Reclining and adjustable beds are the same, and "adjustable" is probably a better descriptor because they don't just recline. So, if you see a bed listed as one or the other, don't worry about it.
Do adjustable beds need a particular mattress?
Adjustable beds need a compatible mattress, but the good news is that there are plenty of compatible models, including foam and spring mattresses. Hybrid mattresses work well with adjustable beds, but they need flexibility.
If you are concerned about choosing a mattress for an adjustable bed, you can buy one with a mattress as a package. Simples!
How much should an adjustable bed cost?
Adjustable beds cost between £400 and £3,000. You pay more for smoother movements, silent motors, and better mattresses.
Adjustable beds cost more than standard beds because of the electronics and mechanics.
Is it worth buying an adjustable bed?
There are several reasons why an adjustable mattress is worth it:
Better breathing: Studies show that sleeping with your head in an elevated position improves breathing, helping reduce sleep apnea and snoring. This study and this one are good papers to digest.
Improved circulation: Sleeping with raised legs reduces swelling in the legs and feet and is recommended by doctors for oedema patients. It could also stop you from getting pins and needles in bed.
Enhanced mobility: A reclining bed will transform your life if you have tight joints, a bad back, or reduced mobility because of a muscular problem. Getting in and out of bed is easier when your bed does half the work.
Back pain relief: Many people get significant relief from an adjustable bed, especially lower back pain. A slight elevation to your legs can reduce pressure on your hips and lower spine.
No tossing and turning: A reclining bed is for you if you toss and turn a lot. It's much harder to toss and turn when your upper body is elevated, and you will be in a more comfortable position, reducing the urge to move.
Overall
Reclining and adjustable beds improve mobility and sleep quality and reduce back pain when angled to relieve pressure on the spine. Most doctors recommend them to patients who sleep with pain and struggle to get into bed.
The only downside to adjustable beds is the cost; £400 to £3,000 is a lot, but you can't put a price on a good night's sleep.
Check out our range of adjustable beds for ideas.
---
The Insidexpress is now on Telegram and Google News. Join us on Telegram and Google News, and stay updated.