There's no denying, most women know that the wrong undergarments can totally sabotage a perfect outfit. So when it comes to choosing undergarments, we must be picky the same way we are when we spend hours in the closet to decide on what to wear.
In case you don't know yet, there are a lot of undergarments already that offer stylish and seamless support. One of the most popular right now are shapewears. This type of undergarment is making a buzz because of how it works to instantly sculpt the body.
But the most pressing question here is: Does a body shaper work? You'll find out below so keep on reading.
Benefits of wearing shapewears
While shapewears are mostly bought for aesthetics reasons, they serve more purpose than that. Believe it or not, shapewears has health advantages, too. If you need more convincing in getting one for yourself, we've listed down five benefits of wearing shapewears.
1. It improves your posture
If you're struggling with your posture, then a shapewear can be your best rescue. Because of the compression and support it gives, a shapewear ensures that your posture is good. This makes your body straight and firm, and it lessens your back pain.
2. You get instant slimmer figure
Shapewears are designed to create that nice and sleek shape without requiring you to work out or go on full diet mode. Depending on the level of compression, shapewears squeeze everything in place while still ensuring you feel comfortable underneath. This therefore smooths and contours your body, making you look more amazing on your outfit of the day. With this, you get an instant slimmer figure.
3. It enhances your favorite body feature
Whether you want extra attention to your curvy waistline, bust, or bottoms, there is a shapewear dedicated for every body feature. If you want to accentuate your natural curves, go for waist trainers. If you want to give your bust a firmer look, try shapewear bras. If you want to shape your thighs and flatten your tummy, your best bet is shaping shorts.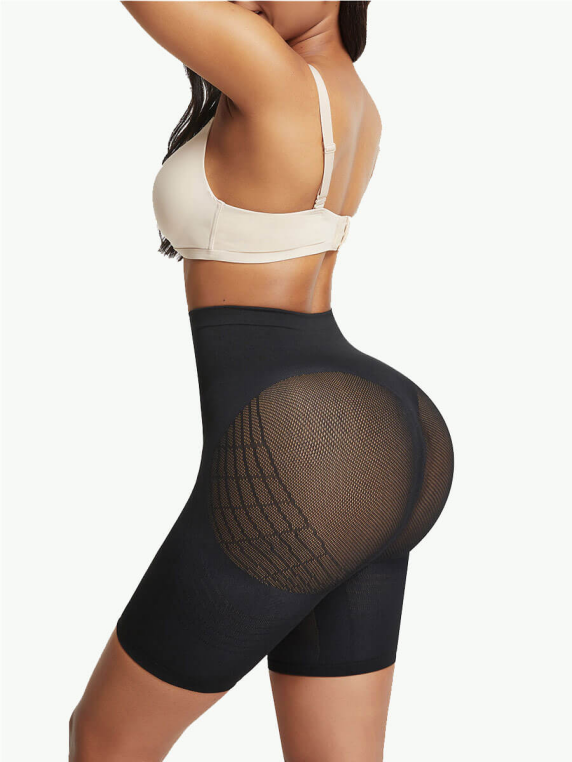 Sculptshe Seamless Mesh Tummy Control Butt Lifter Shorts
4. It helps in speeding up recovery of postpartum women
After delivery, postpartum women's muscles may be sore and weakened. Studies show that the right postpartum shapewear may help new moms feel more supported, and gain mobility faster after giving birth, thus reducing time in the hospital. A post surgical compression garment can help new moms manage pain and distress after their operation.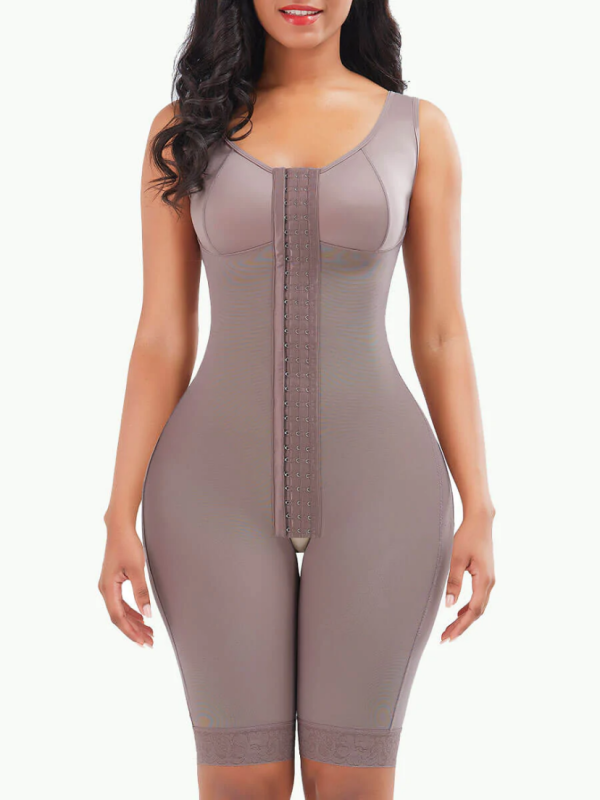 Sculptshe Overbust Postpartum Recovery Slimming Body Shaper
5. Shapewears boost your confidence
Let's face it, we all have body insecurities and the way we look affects our confidence. Even if we have the most expensive and most beautiful dress there is, if we don't look and feel good in it, then it's a waste. Shapewears may just be a piece of clothing but it makes a lot of difference to a woman's confidence. This type of undergarment sculpts our body, helping us achieve the shape and support we want.
How to pick the right shapewears
There are a lot of good shapewears in the market but that doesn't make it easy for us to find the right one. Truth is, picking the right shapewear is much like choosing the man you'll marry — it's tricky. So to help you out, we've rounded up a few tips on how you can pick the right shapewear for you.
Find the right fit and stick to your size
One of the myths may women believe when buying shapewears is sizing down for extra firmness. But in reality, the wrong sized shapewear does more harm to you than good. According to WebMD, too-tight shapewear may lead to health problems and can even make you look bigger. That defeats the purpose of shapewears.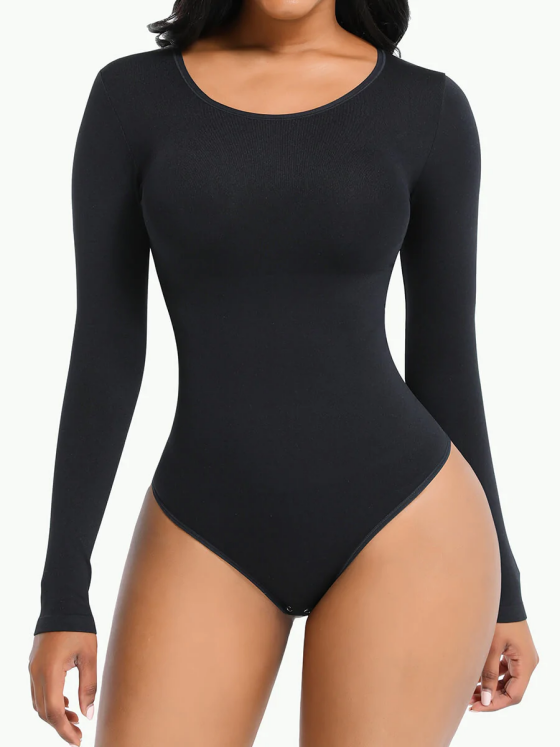 Sculptshe Seamless Long Sleeve Thong Bodysuit
Identify the level of compression you want
There are three levels of compression: light, firm, and extra firm. Light compression is designed to smooth out a few bulges and targeted spots on your figure. Firm is more on the middle level that provides enough compression to accentuate your curves and show off your figure. If you want a shapewear that will suck and tuck your body into shape, go for the extra firm compression. They work well under structured clothes like wedding dresses, gowns and cocktail dresses. So to answer the most frequently asked question if shapewears work — yes, they do if you want an instant sculpted body.
Be picky about the materials
With the wide array of shapewears, it's not surprising that you will see a lot of shapewears in different materials. There are satin, nylon, lace, and athletic fabric. Choose the material that makes you look and feel good underneath. But with the advent of technology where we mostly shop online, it's really difficult to put trust in brands that claim they have the best collection of shapewears. This leads us to the last point: read reviews.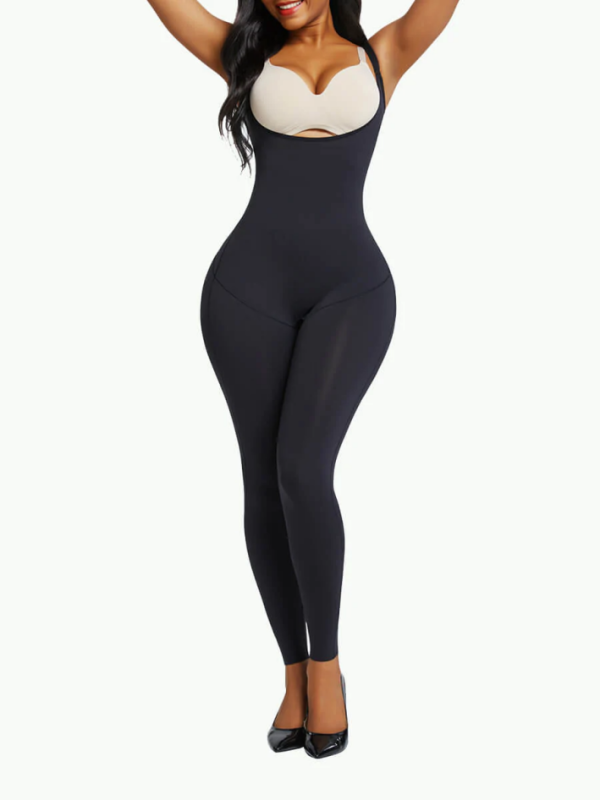 Sculptshe Open-Bust Catsuit Body Shaper
Read reviews
Sure, shapewear brands tell you they are the best. But if they all say they are the best, then who is telling the truth and who is lying? The key here is to always check reviews before buying a shapewear. This helps you manage your expectations because you're hearing comments directly from the users. It might take some time and effort to browse through various testimonial pages but we tell you, it's worth it. Doing this prevents you from letting your money go to waste. Shapewears are an investment so might as well invest in a good one.
Why choose Sculptshe for shapewears?
Here at Sculptshe, we offer shapewears that will empower you to be confident, sexy and poised by enhancing your natural beauty. We have a well-curated collection of shapewears featuring various styles fit for any taste.
Our shapewears are guaranteed high quality, never letting you sacrifice comfort. From bodysuits and shorts to postpartum compression garments, you'll find something that makes you feel supported all day long.
With shapewear in your wardrobe, the way you dress will never be the same.