Incredible Styles for Leather Vest for Men 2022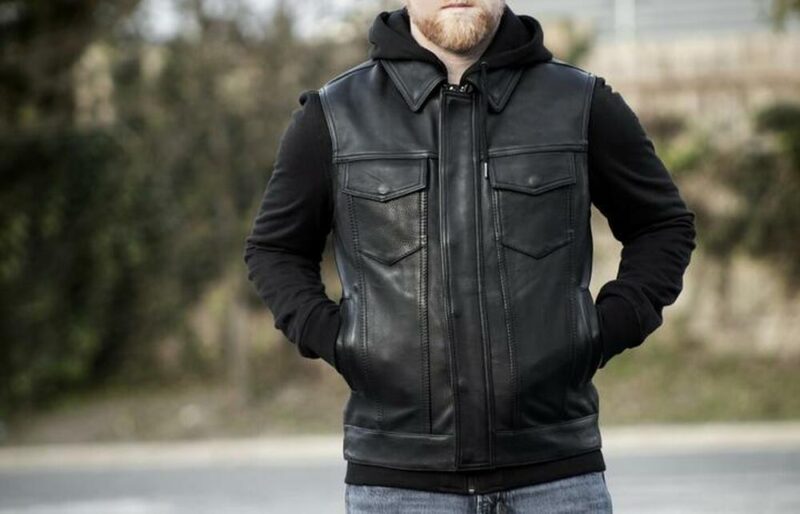 The history of the leather vest is an interesting story. The origin of the leather vest for men is a leather jacket. Leather jackets were launched in the 19th century that gained popularity with time. The present-day hype of leather jacket is declined to a great extent. But the leather vest is still in the fashion industry as a trend. Men and women are equally drawn toward the leather vest. The leather vest is much popular among men because it is the staple apparel of men's closets and the uniform cardigan of bikers. The leather vest is way lighter and easy to carry than leather jackets. It is accessible because of multiple pockets. Thus, one can easily carry multiple necessary items in his pocket. Another unique quality of the leather vest for men is that it can be worn as a concealed carry vest. Concealed carry vest is a normal leather vest that is used to hide firearms such as a sharp knife or a small gun and its bullets. Concealed carry vest is ideal for bikers to wear on long rides on which they have to go through abandoned roads and towns. These places have a high risk of robberies and Attacks. Concealed carry vest helps to carry firearms that help in attacking back the attackers. Here are some incredible designs of leather vest for men. 
1# Formal Black Leather Vest
The formal black leather vest is worn as a formal outfit with button-down shirt and dress pants. It has a shiny look that makes it look formal. A button-down shirt of any looks perfect with this apparel. This outfit can be worn for a meeting in an office setup. Men can wear this outfit to the office on alternate days. To enhance the look, formal boots are a good option. This formal look gained popularity in fashion shows worldwide. After its display in fashion shows, it gained popularity among the general public and the businesses of the leather vest had a remarkable incline.
2# Men's Black Casual Stand Collar Leather Vest
Another iconic leather vest for men is a black casual Stand Collar Leather vest with double layers. Brown on the inner side and black on the outside. This leather vest is best for winter. It can be styled with a brown sweater and grey denim jeans. This outfit can be worn casually on alternate days in winter. This outfit gives a classic and manly appearance to men. 
3# Men's Suede Layered Khaki Leather Vest
Modifications in the leather vest added to new styles and designs that were adored worldwide by men. Another classic and decent design that was launched in the series of the leather vest was Men's Suede Layered Khaki Leather Vest. It is a leather vest similar to the common one but in khaki color and multilayers. It is also available in multicolor. The inner layer of this mens leather vest is lighter than the outer layer. This Men's Suede Layered Khaki Leather Vest gives men a dusky decent look. This outfit can be paired with brown pants and brown shoes and a brown leather watch. This outfit is a unique and top-notch design that can be worn as formal wear. This outfit also goes with the office setup.
4# Vintage Tan Brown Leather vest
Mens leather vest is an outfit launched a few decades ago. In the start, it was made of original leather that didn't get damaged up till now. The leather vest that are preserved for decades is in fashion again. The vintage tan brown leather vest as the names suggest is an antique design of a leather vest that looks stylish when styled with a button-down shirt and khaki pants. This look is highly recommended for men because it suits them the best. 
5# Men's Faux Leather Vest with Stand Collars
A faux leather vest for men with stand collars looks dusky and decent. It is available in different colors such as white, red, black, and blue. These leather vests can be worn with a white button-down shirt and black dress pants. This apparel can be worn at a party or casual meetings. The red faux leather vest looks funky but white and blues are pretty decent and new colors in leather vest history. Mostly leather vests are seen in black and brown color.
All the mens leather vest are styled in different ways. Leather vest is universal apparel that looks best with every outfit worn. It is now available in different colors and cuts. Both small sized and extra long leather vest for men is in fashion. Many leather vest companies also design leather vests on order for men. Leather vest is a durable, stylish, and lightweight cardigan that is easy to wear and weather-wise too.
---
The Insidexpress is now on Telegram and Google News. Join us on Telegram and Google News, and stay updated.