Get your Bling on with 5 Gold Frame Glasses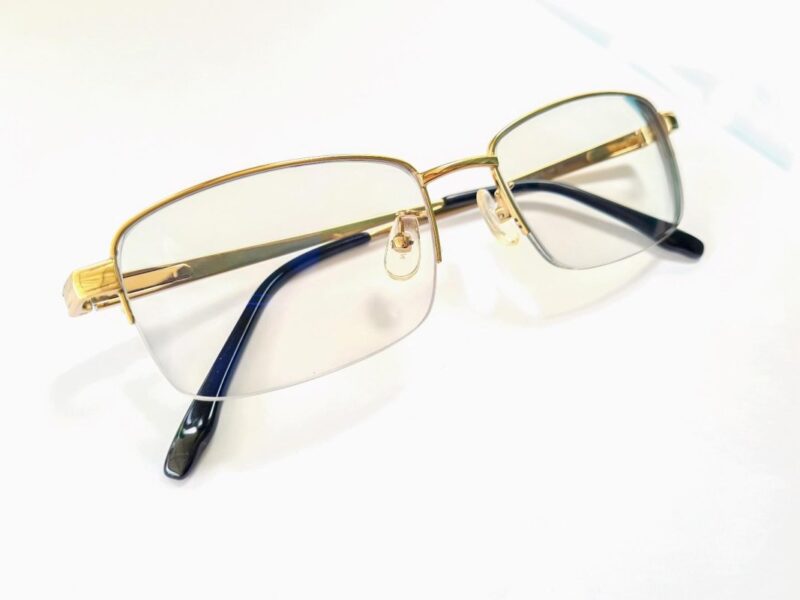 Eyeglasses make you appear breath-taking, and young people now dress in them as a fashion statement. Eyeglasses are additional accessories, and there are many stylish eyeglass designs to choose from that increase your confidence and improve your whole appearance.
Gold frame glasses are the best choice to look regal and sophisticated. The wearer of these spectacles will stand out from the crowd thanks to their bright appearance. Gold frame glasses are different from other frames in that they are not affected by the lenses they contain.
Gold Rectangle Rimless Eyeglasses
Women who wear these rimless eyeglasses appear incredibly sophisticated and elegant. This product is made of metal, has a rectangular frame, and is easily affordable for women of all social classes. The primary distinction between the lens of these glasses and others is that this lens is anti-reflective, making it simple to see clearly. In addition, the blue filter lenses in these gold eyeglasses aid in easing problems like headaches, eyestrain, and restless sleep. These gold frame glasses are manageable with their 135 mm temple length, 27 mm lens height, 50 mm lens width, and 16 mm bridge width.
Gold Rectangle Semi-Rimmed Eyeglasses
Women can balance their face shape with deeper (top to bottom) frames and contrast their face shape by choosing round, oval, or aviator forms for this pair of semi-rimmed, rectangle-shaped glasses. This lens has an anti-fog coating on the backside and a No-Glare coating on the front, making it scratch- and fog-resistant. The No-Glare coating on the front side of the lenses decreases glare and reflections while keeping the back side of the lenses fog-free while using masks. It is also simple to clean. The frame's temple length is around 135 mm and is of plastic material. Gold frame glasses are traditional eyewear pieces that convey a self-assured appearance.
Gold Rimmed Women Eyeglasses
Most pairs of gold frame glasses come in the medium size (54-16-140) with a square frame design. This type of eyewear is for regular wear since square glasses are significantly more modern than the conventional round-eyeglass style. Gold glasses with a square gold frame are a great way to convey confidence and boldness. Since it is within the range, middle-class folks may smoothly get it from the market. Because high-power ladies should constantly wear small frame size gold eyeglasses to prevent people from discovering how powerful they are, this square frame is perfect for those women who have limited vision. Look no farther than this handcrafted item created from premium materials if you are searching for high-quality gold frame glasses. It shields you from sun glares and light reflection from cell phones and computer screens by the anti-reflective coating.
Gold Rectangle Men Eyeglasses
This pair of glasses is appropriate for guys because they have a titanium frame, which improves men's intelligence. This rectangle-shaped rimless frame with gold spectacles includes an anti-reflective lens and a blue filter, enabling men to have an appropriate vision. However, this show costs more than others, making it only accessible to those from the upper classes. Wood and titanium were used in their creation to boost the users' savviness. In addition, these gold frame glasses update the style of your professional attire and are currently the most fashionable eyewear. The perfect eyewear may help you achieve any look you're going for, whether refined, carefree, young, traditional, or fashion-conscious.
Gold Rectangle Semi-Rimmed Eyeglasses
A frame with dimensions of 53 mm lens width, 18 mm bridge width, 140 mm temple length, and 32 mm lens height look elegant and is available in medium sizes. The front of these gold, semi-rimmed glasses consist of steel, and the temples are of plastic. Every age group prefers these glasses, from office workers to college students, because they are reasonably priced. One benefit of gold frame glasses is that retailers can adjust if customers choose to utilize glass lenses rather than fibre optic ones. Titan Eyeplus used high-quality materials, which won't flake or lose colour for these glasses. A bonus is that the lens includes an anti-scratch coating. When you leave the house wearing it, don't be shocked if you receive several remarks from strangers because of the genuinely excellent craftsmanship.
Visit your local Titan Eyeplus showroom for the best selection of gold frame glasses, or order through the Titan Eyeplus website with your favourite lens and prescription attached. The customer service team will get in touch with you within 24 hours.
---
The Insidexpress is now on Telegram and Google News. Join us on Telegram and Google News, and stay updated.