3 Men's Hats That Are Perfect for The Kentucky Derby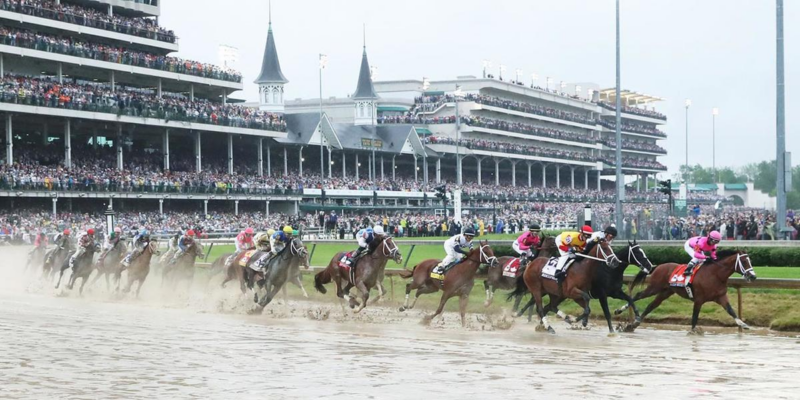 Every year, a horse race is being held in Louisville, Kentucky, United States, which is more popularly known as the "run for roses" because they drape a blanket of roses on the winner. The iconic horse race, full of mint juleps and rose garlands, is also often referred to as "The Greatest Two Minutes In Sports," mainly because the races finish just as soon as they begin. You might have also even heard of Secretariat, the fastest horse to finish the race in history. There sure is a lot of excitement and anticipation in just a short amount of time!
The Derby consists of three-year-old thoroughbred horses that will run a one and one-quarter mile-long distance. Over 150,000 people come to see the race on average, and the rest tune in through television. It can easily be one of the most viewed sports in the US.
However, the Kentucky Derby is not just about the horses and the roses — it is also a celebration of hats for more than 150 years. The hats that one will see in the Derby is no ordinary hat, though, as they are almost always extravagant in nature. In fact, this is one of the reasons why watching the Kentucky Derby is exciting! For this event, hats are the women's crowning glory, and the wilder their hat is, the more exciting they'd look for the event.
There is a wide variety of hat styles that can be seen, from feathery fedoras to exaggerated bows on caps. Nevertheless, not only can women ace the look with a hat, but men are now also spicing up their tailored suits with this fashion accessory.
There's no reason why men can't be as elegant and dashing with the hats on Derby Day as the ladies are. To get started, here are the top three men's hats that are perfect for the Kentucky Derby event.
1. Elwood by Biltmore
One of the best Kentucky Derby hats for men is made by Biltmore, which is the Elwood. The Elwood is a safari straw hat that can spice up any tailored suits. Aside from that, it is dubbed as the Kentucky Derby Official hat. The crowd will surely become jealous when they see you wearing this.
Elwood is made from high-quality Tokyo Straw, so you can trust that it is durable and will last long! Meanwhile, the hatband features a grosgrain band with ribbon overlay, giving life to its sleek and elegant design. The interior is lined with Vom Baur sweatband, which is perfectly suitable for enjoying the Kentucky Derby event while feeling fresh throughout the event. It's a perfect combination of casual and formal.
Lastly, the ivory color of the hat makes it versatile. It can fit any color of your suit and make you look stylish and classy. You'll look effortlessly fashionable and elegant with this piece. This one is truly a timeless classic.
2. Monroe by Stacy Adams
Don't feel like wearing the vintage classic? Then check out the next on our list, which is Monroe by Stacy Adams. First glance at this derby hat, and you will surely be in awe of its minimalist yet elegant design. Bowler hats are yet another classic, but this one takes it up to a higher level. It is a wool felt bowler hat that can surely turn heads when worn to the event.
Another best thing about this is that Monroe comes in three different color choices: black, white, and brown. This means that you have more options to match any of your tailored suits. You can also pair this hat with a denim jacket and a t-shirt for a more casual look.
Monroe is made from genuine wool felt, and you can tell it just by looking at the texture of the hat up close. It also features a 12-ligne grosgrain band and leather sweatband, so you will experience incomparable comfort when you wear it. Lastly, the feather embellishment on the side makes this hat stand out!
3. Basher by Stetson
Last but not least is the Basher by Stetson. While this is not a classic like the ones above, it can definitely keep up with the times. It is a cloth fedora hat that is made with a plaid fabric — one of the trendiest patterns in the fashion industry today. This pattern gives out a classy and playful vibe, which will make you absolutely stand out when you wear this at the event.
Basher also features a padded sweatband, so you will be in your most comfortable while wearing it. It has a 2-inch long brim that turns slightly upward at the back. Moreover, it comes in a tan color, which you can pair with any of your suits. This hat will surely jazz up any casual summer outfit.
With its smart and stylish design, you'll surely receive a lot of compliments with this trilby fedora hat. The hat has a minimalist band that complements the plaid pattern beautifully. You can style this hat with slim trousers for a smart-casual look, or dress it up more with a nice suit.
With Basher by Stetson, you'll definitely look youthful and trendy. It's a great addition to elevate your attire for the Kentucky Derby.
Final Thoughts
And these are the best Kentucky Derby hats for men. While its main event is the nerve-racking horse race, it wouldn't be so exciting without parading cool and out-of-this-world hats. There are a lot of choices out there and choosing the perfect hat for yourself may feel overwhelming. But you can never go wrong with these top three classic, stylish, versatile pieces.
People go and see the Derby for the hats people wear just as much as the horses, maybe even more. While the grandeur hat scene is dominated by the ladies, men have also shown their fashionable sides by bringing their own sleek and trendy hats. If you plan on seeing the iconic sport, fully immerse in the festive experience, and don't forget to wear an elegant hat!
So, if you want to turn heads for this year's event and feel like a winner, make sure that you choose from these three men's hats that are absolutely perfect for the Kentucky Derby event!
---
The Insidexpress is now on Telegram and Google News. Join us on Telegram and Google News, and stay updated.