Tom Daley Is Rimmel London's New Global Ambassador
Image Source: Rimmel London
Tom Daley may be a hugely successful Olympic diver with an OBE, a fierce ally of the LGBTQ+ community, and a knitting extraordinaire, but when POPSUGAR sat down to chat with him, we still didn't expect him to be so warm and welcoming.
Perhaps an unexpected move for the athlete, Daley's latest endeavor sees him entering the beauty industry as the new global ambassador for Rimmel London, which fits with his dedication to promoting inclusivity. "The thing that I love about it is that it wasn't a separate product for men", he says. "There's something that was really special about breaking down those boundaries — those gender norms of what is OK for men to wear [and] what is it OK for men to do."
"There's something that was really special about breaking down those boundaries — those gender norms of what is OK for men to wear [and] what is it OK for men to do."
Before this, Daley's only exposure to makeup came while getting groomed for photoshoots or events, but he soon realized it was these little touches that made him feel most confident. "It got to a point where I was like, 'Oh, actually, if I am going out for dinner, I want to feel my best and I want to feel confident and not look crazy shiny'", he says. Although, he's quick to point out that it's not about masking who you are or striving to look perfect, "but just little things that might give you extra confidence if something comes up."
While Daley is far from a pro on the beauty front — he learned all about the tools, tips, and tricks by asking questions of the glam squads on different sets — he does hope his honesty about using foundation will encourage others to embrace their individuality. "If you look at men on TV or footballers, they're all wearing it," he says. "It's just not talked about, which I think is why this is even more important for Rimmel to be able to put a male at the front. Men can wear makeup, too."
Daley is all about making small changes to help him feel his best — from using beauty products to give his skin a little glow to listening to music ("Good Time" by Jodie Harsh is his most-played song this month), and using his platform as a force for good. However, it's knitting that has become his most famous hobby. While diving is his first love, shooting to fame at the age of 14 at the 2008 Beijing Olympics competing in 10m platform, there is a genuine fervor as he talks excitedly about his newer pastime, which all began with a need to feel calmer. "My coach said that I'm terrible at sitting down, resting, and recovering, so I needed to find something to do that I could just sit still," he says. "Then it was my husband who said people on film sets knit squares to pass the time. So, I was like, 'Right, OK, I'll give it a go. Why not?' Not thinking really that much of it."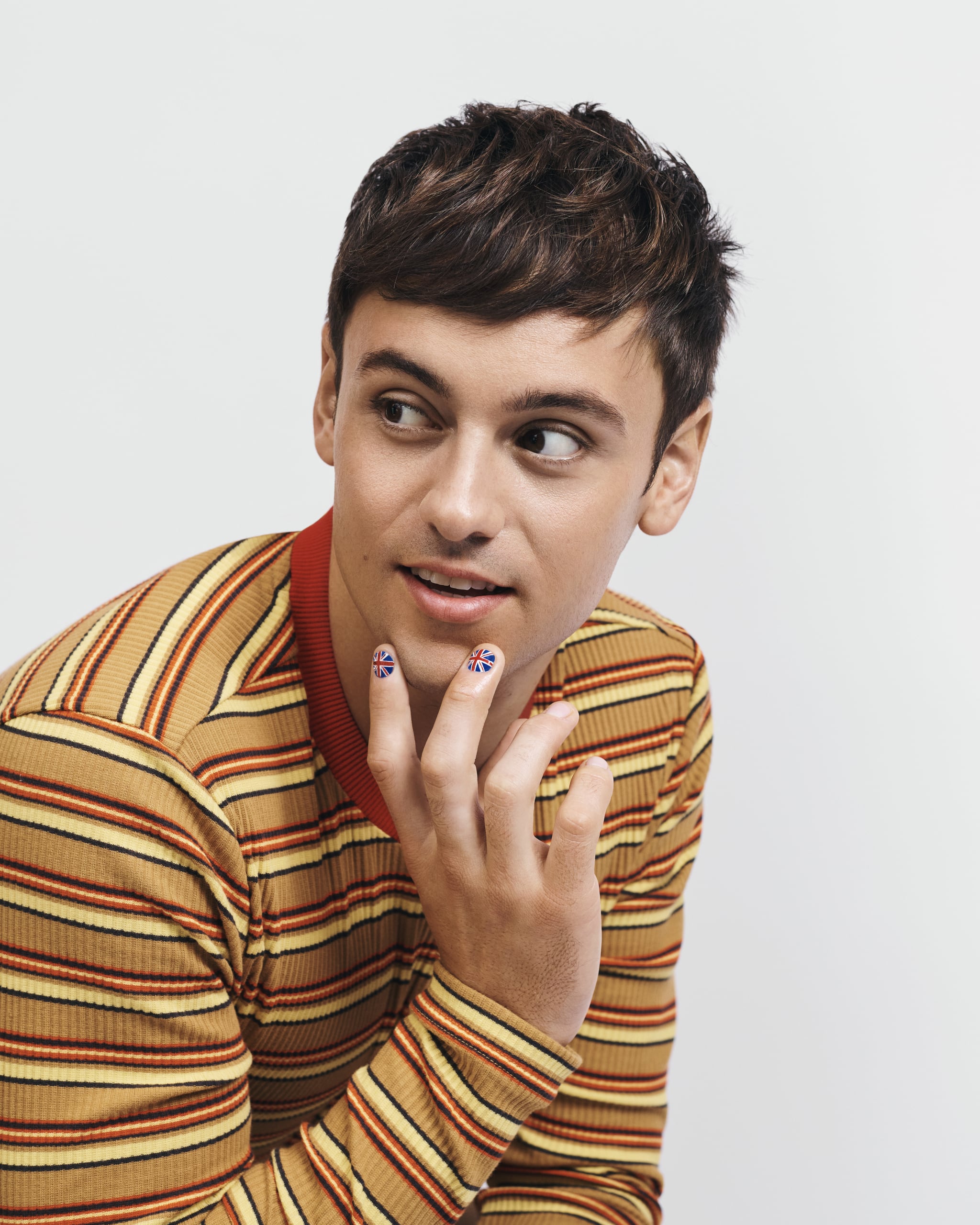 Image Source: Rimmel London
Much to his surprise, fans couldn't get enough of the gold medallist crocheting poolside. Memes from the 2020 Tokyo Olympics of Daley knitting in the stands in his uniform went viral and soon inspired him to set up the Made With Love by Tom Daley Instagram account in hopes of inspiring others to get out the needles and calm the mind. Now, his first knitting book launches later this month. "Each project I did, I learned a new stitch, a new skill, and then I gradually taught myself how to crochet," he says. "Then I started designing my own stuff, and slowly but surely developed Made With Love, which started as an Instagram page so I didn't bore people on my main page with all my knitting."
With more projects in the pipeline, the dad-of-one even hints that his designs could be made into a clothing line. "It's not just about being able to push my boundaries and what I like to wear. It's just now I'm able to and have the opportunity to leave the house and not just go to the pool and wear sportswear," he says. "So that kind of thing has been really nice to be able to explore that side of me and being able to be a bit more expressive."
"I've realized that there's actual power and strength in taking a step back to allow your body to heal, your mind to heal."
While it might seem like Daley is always positive and motivated, he's had to learn to lean into the quieter days. "As I've got older, I've realized that there's actual power and strength in taking a step back to allow your body to heal, your mind to heal, and move forward from that," he says. "It's not every day that you wake up and you're like, 'I'm going to go and smash this, this is my day.' But of course, there are days where I feel like, 'Ugh.' But for me, it's about showing up, being kind to myself on the days where I didn't feel like I was in the best place, and maybe changing and adjusting what I was doing."
Some of that adjustment has come from his relationship with social media. With over three million followers on his Instagram and 1.4 million on TikTok, he is mindful of the content he puts out and is consuming. "I just try to curate my platform to be something that inspires me, that motivates me, makes me laugh," he says. "And if ever I see anything that doesn't make me feel good and is negative, whatever it may be, I just unfollow."
Family is undoubtedly Daley's main focus, as he talks of his next knitting task for husband Dustin Lance Black and 4-year-old son, Robbie, but there is a determination to succeed in the fashion world, too. "I would love to be a fully-fledged knitwear designer," he says. With Daley's growing popularity, there's no doubt it would fly off the shelves. With sport, beauty, wellness, and activism now covered, it makes sense for him to dominate the fashion industry, too. "I'd love to one day have a Fashion Week show . . . I bloody love knitting."
Watch Tom Daley play Perfect Match with POPSUGAR UK below.
---
The Insidexpress is now on Telegram and Google News. Join us on Telegram and Google News, and stay updated.