Summer Fridays Sheer Skin Tint Review With Photos
Image Source: POPSUGAR Photography / Renee Rodriguez
Summer Fridays recently launched the Sheer Skin Tint.
The product is a lightweight tinted moisturizer that offers luminous, natural-looking coverage.
Our editor tested the product and is sharing her results.
My relationship with base makeup is complicated. There are times when a full-coverage foundation is absolutely necessary, but more often than not, every time I slather on anything more than a medium-coverage CC cream, I find myself wishing I could wash it off immediately. I'm a no-makeup-makeup girl through and through, and I've found that my skin feels best when it's wearing lightweight products that aren't too dense or thick, but it's difficult finding a product that checks all of my boxes.
When I heard that Summer Fridays was coming out with its first-ever makeup product and that the product is a lightweight skin tint, I had a feeling it was going to be exactly what I had been searching for.
The Summer Fridays Sheer Skin Tint ($42) is an ultra-lightweight liquid formula that offers natural, sheer to light coverage. Seeing as Summer Fridays is first and foremost known for its skin-care products (I'm a big fan of the brand's eye cream), the latest product includes good-for-skin ingredients like tiger grass (to reduce redness) and hyaluronic acid (to hydrate). It comes in 10 shades, numbered from light to dark.
I have dry, acne-prone skin, so when it comes to makeup, I always look for products that won't exacerbate my dryness or cause breakouts. I also love that it promises sheer, lightweight coverage. When it comes to base makeup, I'm always on the hunt for products that will even out my skin tone without the cakey look.
Trying out the new summer Fridays skin tint #summerfridays #summerfridaysskintint #WorldPrincessWeek
♬ Super Freaky Girl – Nicki Minaj
The first time I tested it, I was working from home but wanted to look a little more put-together for my video calls. Typically, I skip base makeup altogether and just apply a little blush and bronzer, but I had some redness on my cheeks that I was hoping to cover up.
After finishing up skin-care routine and slathering on SPF, I shook the bottle and applied the skin tint directly onto my face, and then I blended everything out using a dense foundation brush. I tested shades four and five, but five was a better match for my coloring. The first thing I noticed was how well it melted into my skin. It was easy to spread, didn't pull at my skin, and layered well under my skin-care products.
It was also hydrating, and it left my face feeling moisturized rather than the tight or dry feeling that can sometimes come after applying foundation. I looked dewy and glowing all over, which is exactly what I was going for.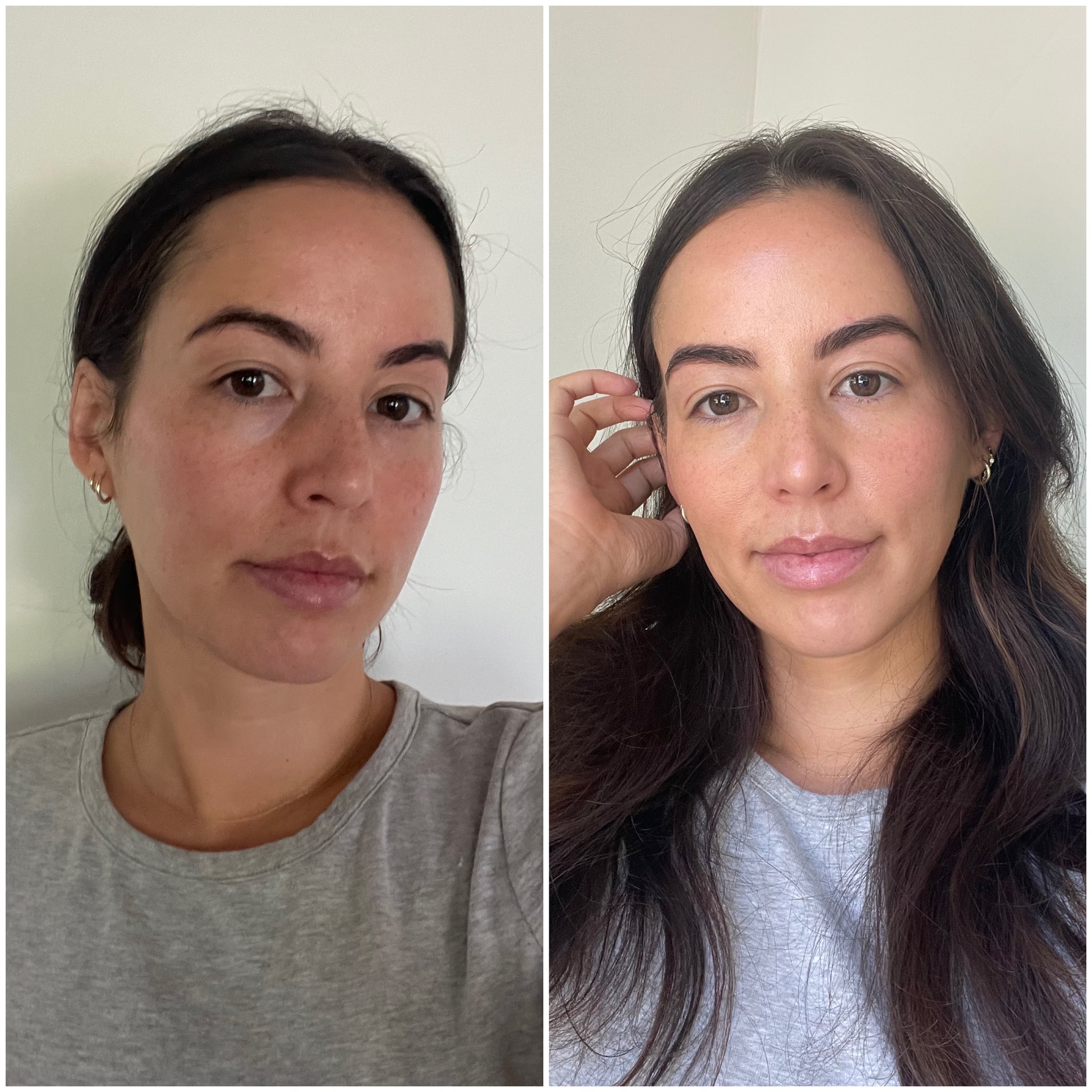 Image Source: POPSUGAR Photography / Renee Rodriguez
The coverage was extremely subtle (like, barely there), but it did cover up some redness I had on my face, and overall, it evened out my skin tone nicely. Also, while I did find that the skin tint was buildable, it wasn't ever going to offer more than light coverage — which was fine for me, but it's something to consider if you're looking for a product to cover up dark spots or acne. I finished off my first application with a little bronzer and blush, and by the end of the day, when I noticed that the skin tint had staying power and barely budged, I knew I had found a winner.
Now this skin tint has easily become my go-to base makeup product for pretty much any occasion, and it fits so well into my beauty routine that it feels like Summer Fridays made the product specifically for me. At $42 for one ounce, this product is on the pricier side, but a little goes a long way. I wouldn't recommend it for anyone who is looking for a medium- to full-coverage base makeup product, but it's perfect for people after that no-makeup makeup look.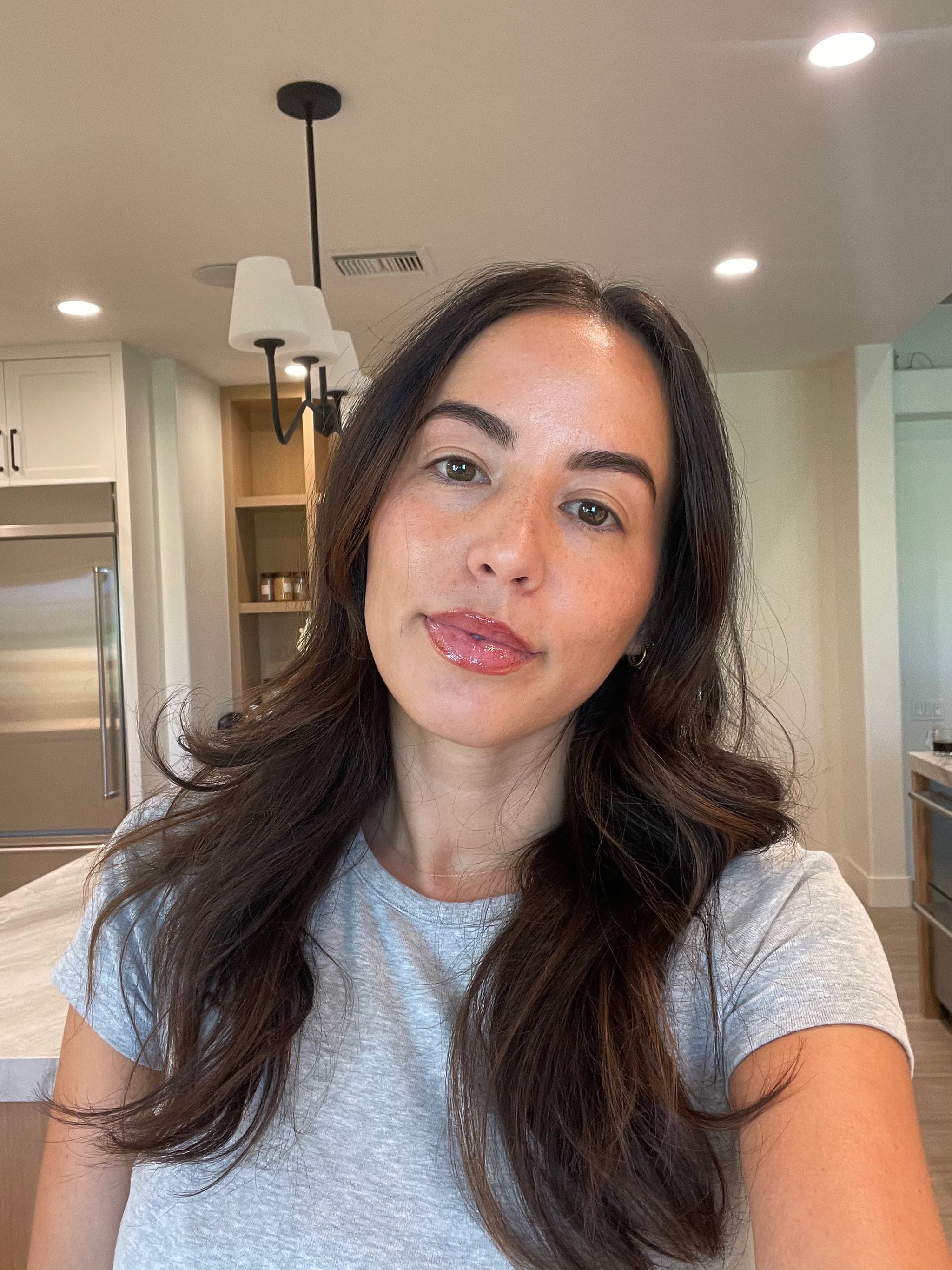 Image Source: POPSUGAR Photography / Renee Rodriguez
All in all, I love this product. It evens out my skin tone and leaves me looking glowing, all while feeling lightweight. I'm also a fan of all of the included skin-care ingredients, and my face is better for it. In my opinion, the only thing that could possibly make this product better is if it included SPF. Summer Fridays did recently come out with a separate SPF product, though, so you can always layer it underneath. (Luckily, like I said, it does layer well.)
Rating:
---
The Insidexpress is now on Telegram and Google News. Join us on Telegram and Google News, and stay updated.