Insecure's Hairstylist Spills the Tea On Season 5's Styles
Admittedly (and please don't tell Iss), I was a late bloomer to Insecure, if for no reason other than the lack of understanding of how significant this show was for the culture. It took me two years to press play on the series, which began in 2016 and just released its fifth season, but while I was a late add, I very quickly realized why people — Black people, specifically — were hooked on this show.
Apart from A Different World — a television series based on the hurdles and celebrations of Black students at a historical Black college — this is the first show I've really felt seen as a Black woman. From the beautiful journey of strong Black women friendships and the fashion and Black designers that Issa Rae, show director and writer, spotlights to Lawrence (Jay Ellis) and Issa Dee's (Rae) complicated and intertwined relationship that so perfectly articulates the situationships that we as viewers can often find ourselves in and navigating life as a young Black person in Los Angeles — I became obsessed with the show.
But by far, my favorite thing about the five-season series is how it embraces natural hair. Even after experiencing multiple breakups with Lawrence, Daniel (Y'lan Noel), and Nathan (Kendrick Samson), and jumping of jobs, the one constant for Rae — regardless of how stressful or uncontrollable her situation — was her versatile hairstyles. For hair department head Yvette Shelton, his vision was pretty straightforward: "We followed a formula of a lot of great natural hairstyles that could enhance everybody's beauty without adding extra layers of heat," he told POPSUGAR.
Season to season we see Rae sport a faux hawk with cornrows on the side, crown braids, twist outs, straight back braids, TWAs, and so many more. The variety, Shelton explained, is both a reflection of Issa and Black hair everywhere. "With our show, we were under pressure being the first to try out these natural styles as complementary components to our actors," said Shelton.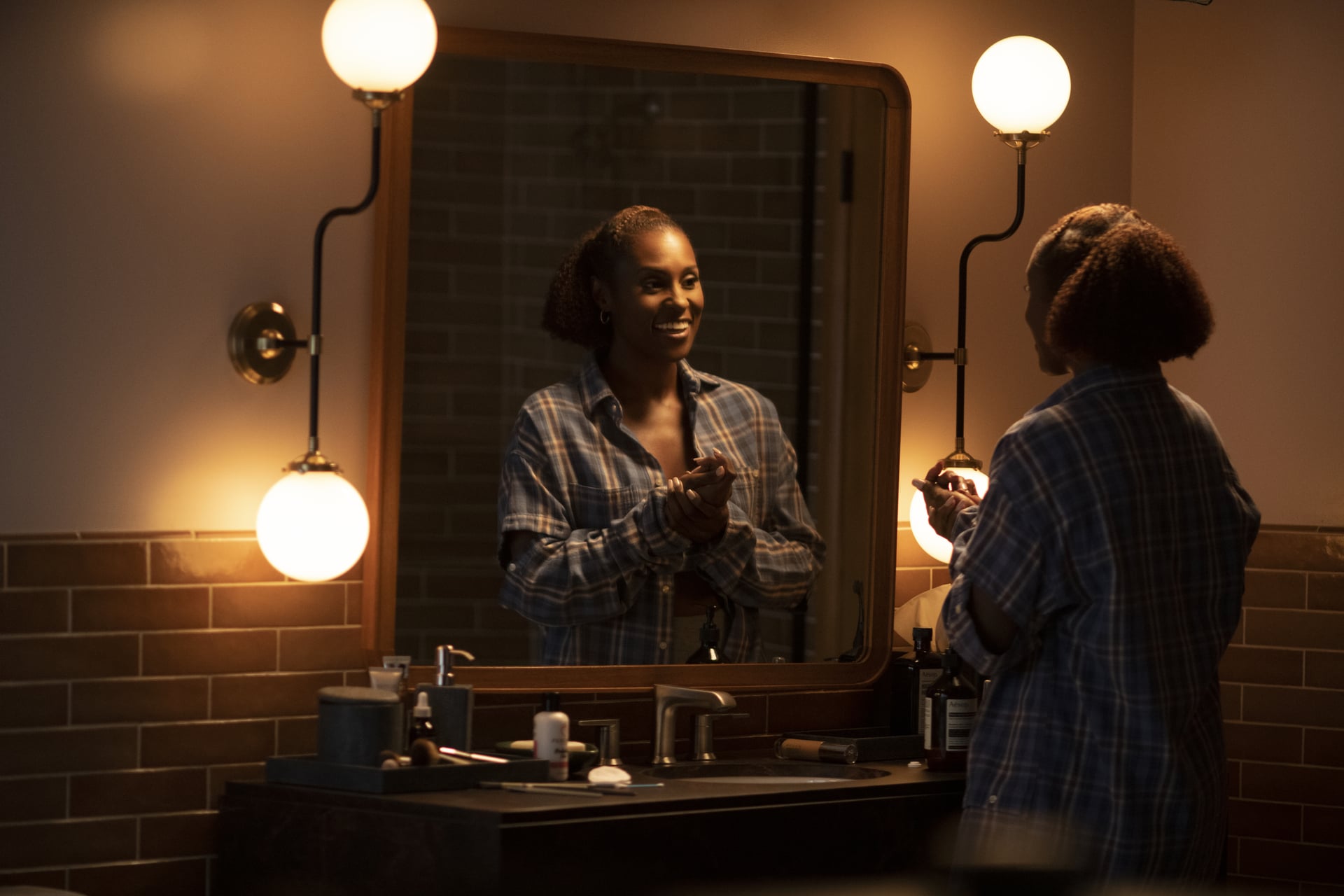 Image Source: Glen Wilson/HBO
To do that, Shelton and team read the script, met with the wardrobe team, and consulted friends and family in the Black hair community to either completely create new styles or revive and update styles from past seasons with a new twist. "The challenge was to be creative every season without repetition, season five being the hardest of them," said Shelton. The lead stylist would consult with each actor to verify the look selected was indeed a look they would wear IRL.
According to Shelton, before Insecure, most women of color wore extensions in TV and film. "People that had natural hair would come to the trailer and not really have people say their hair looked beautiful, or even know how to style the natural hair." In all five seasons of the series, especially season 5, Shelton made sure to align each character's coils and curls in a way that it complements them.
"Our goal [with each episode] was to make a 30-minute Bible to look at for different hairstyles." —Shelton
"We had to pick styles that actually complemented our actors because it might look good in our mind but then when you start to apply it, you might have to tweak it to be more complementary," Shelton said. Not only that, but the entire team of hairstylists — including Rae's long time personal stylist Felicia Leatherwood — worked hard to ensure that every look selected for the show could be duplicated by the audience without the need for professional training or skill. "Ultimately, we were more concerned about creating styles that people could wear everyday. Our goal [with each episode] was to make a 30-minute Bible to look at for different hairstyles. We wanted people to come back to these styles, and we wanted to teach people the importance of protecting their hair."
The cast's hairstyles aren't the only thing that's accessible — the products Shelton reaches for behind the scenes are, too. Many of the brands used on set for Rae and Natasha Rothwell's (Kelli) hair includes Eden BodyWorks, Alikay Naturals, Carol's Daughter, Sienna Naturals, and Melanin Haircare, whereas Cantu Thermal Shield, and Got2B spray were used for Amanda Seales (Tiffany). Shelton also wanted to incorporate a lot of kinky hair, afro hair, rasta-free hair into each of the styles — to help embrace and create all the looks.
And sure, you might have seen some powerful moments of natural hair on screens of past (A Different World, Girlfriends, Living Single, and How To Get Away With Murder) and present (Our Kind Of People, Black-Ish, and Grown-ish), but Insecure was pivotal and a real trailblazer in the further breaking of negative connotations that have followed Black hair for years. "Even though Insecure is a Black show, it is an inclusive show," Shelton said. "And I feel like we were already on the page [natural hair movement] that Hollywood is going to now. We were already there."
If you caught the trailer for season 5, premiering October 24th, you probably were as shook as I was (and Black Twitter, for that matter) at Molly's (Yvonne Orji) big chop. Orji's hair is styled with sleek, sophisticated weaves and wigs in the first four seasons, but is seen with a chopped, tapered TWA in season five.
"We wanted to show the audience that even if you are a fly attorney, you don't need a certain type of hair to obtain professionalism," Shelton said. "You can be professional with any type of hairstyle." This is important for many reasons, including that straight hair often directly correlates to professionalism, leaving curls and natural hair out of the conversation. For years — and more recently with the CROWN Act, a law banning race-based hair discrimination — women of color have been challenging the societal norms around professional hair in the workplace, schools, and social settings. Unfortunately, for us Black women — whether natural, weave, or wig — the level of scrutiny on our appearance is seen first, rather than talent — often affecting the type of success we can reach, and how we are treated by others.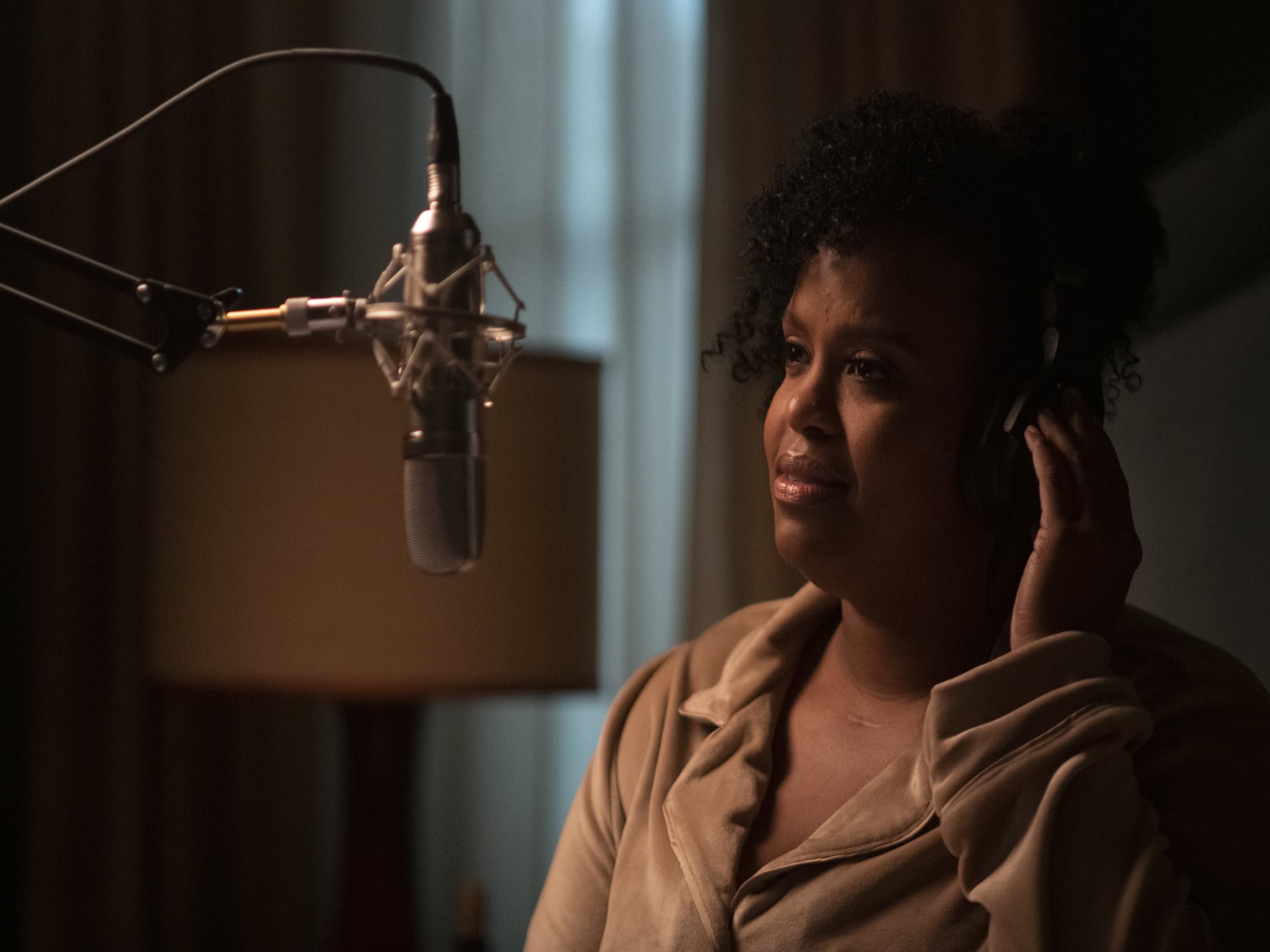 Image Source: Glen Wilson/HBO
Aside from changing the stigma around professional hair, the whole show was based on bringing the audience into Black culture with hair. "To me, this is one of the first shows where the Black women were able to highlight their natural hair," says the expert. "Of course, everyone is not into natural hair. It's definitely an individual choice, but it's the first show where a lot of people wanted that individual choice."
In Insecure, we don't see characters worrying about shrinkage, dramatic and life-changing haircuts after a breakup, or fussing over the decision to straighten their hair before a job interview. No. We simply see modern, professional women whose hair does not define their existence — the way it should be. While Shelton couldn't give us details on the rest of the season, she did confirm that we can expect a whole new assortment of fresh and easy-to-recreate natural hairstyles in the upcoming episodes. "I've never seen so many braids and twists and afros on TV," Shelton said. "No one is doing that, fully — not like how we did it."
Image Source: Raymond Liu/HBO
---
The Insidexpress is now on Telegram and Google News. Join us on Telegram and Google News, and stay updated.